Airline Food & Is It Always Awful?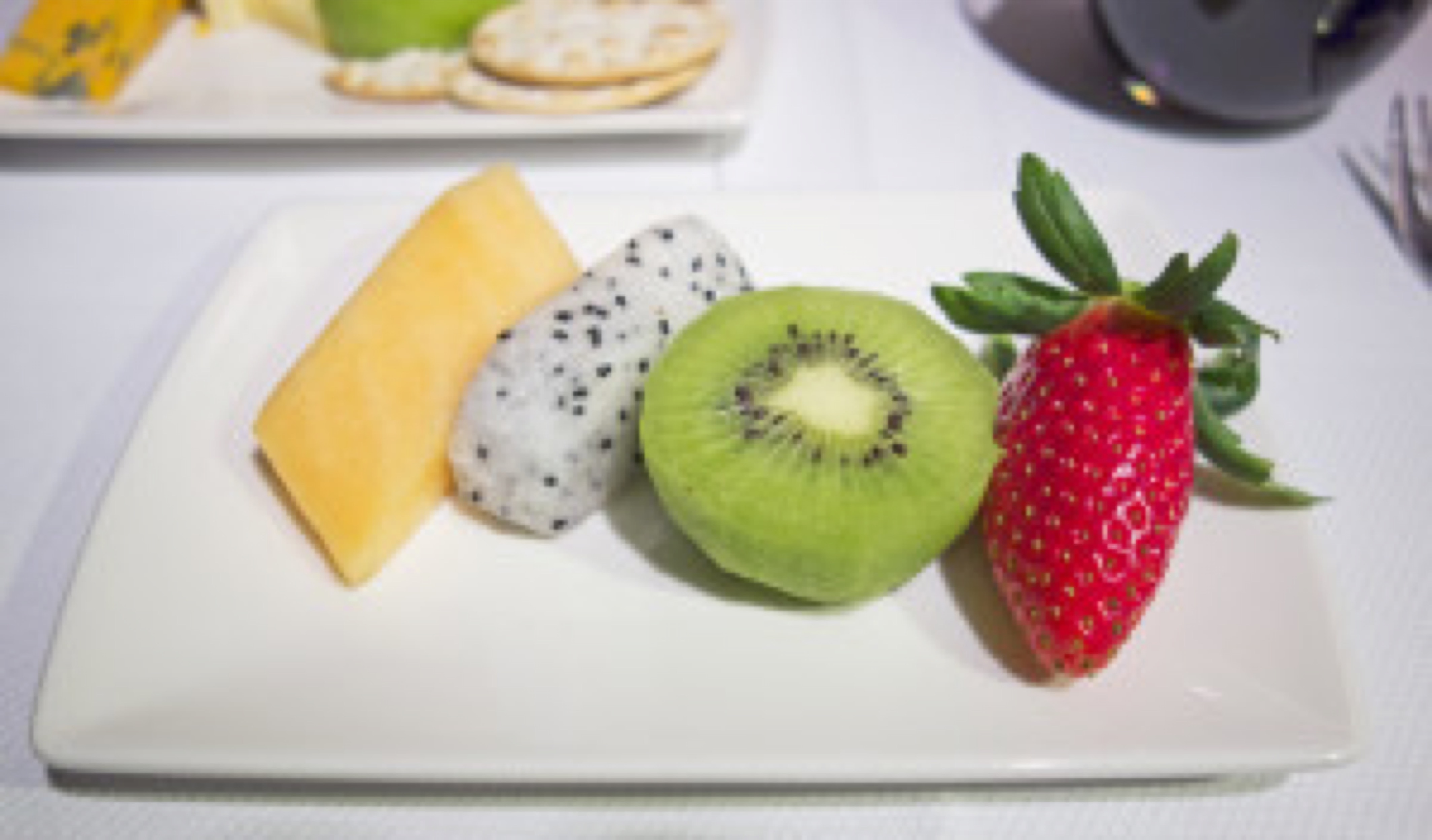 My children never eat airline food on a long haul flight – they are convinced that the meals contain an ingredient to make you constipated so that the plane toilets are not over utilized!
They always have a substantial meal at the airport while they are waiting for their flight and then they ignore the food on board.
I must say that I enjoy getting drinks, snacks and even meals on long haul flights – it does help to relieve the boredom of the flight itself.
"Healthy Airline Food: is there such a thing?"
Susan Brady in her blog has asked the question...
"Whether you are flying to an exotic foreign land for vacation or to visit relatives for a holiday, one thing you can count on is bad airline food. Not just bad tasting, but bad for you. Airplane food, when it is served at all, is notoriously bad for anyone not in the first-class cabin, and it seems to get worse by the day. But if you have to fly, it might be good to know what your options are, not to mention which are the healthiest.

"DietDetective.com has come to the rescue, doing all the legwork for you. Their annual survey rates the best "Calorie Bargains" and "Calorie Rip-offs" at 35,000 feet. The 2010 Annual Food Survey rates foods for eight airlines: United, Continental, Delta, Virgin America, US Airways, JetBlue, American, and Southwest. The survey assigned a "Health Score" (5 stars = highest rate, 1 star = lowest) based on snack/on-board food service offerings, number of healthy offerings, airline cooperation, fruit and vegetable offerings, and improvements. The survey includes health ratings, cost, comments, food offerings, calories, and exercise equivalents. I should note that some airlines were not very cooperative, according to DietDetective. This may have an impact on final scoring. Below is a synopsis of the report, by airline. Should you wish to read the full report, you can visit www.DietDetective.com."
Here is more information she shared...
United Airlines: 5 stars - Improvement has been made, although the airline admits that people are not buying the healthier food choices. On flights of over 2 hours, the best bet is the Tapas ($8.49), a healthy mix of Mediterranean foods. There is also a Lite snack box ($6.99), weighing in at 430 calories, that is a good bet. Also for around 400 calories is the Chicken Caesar Salad ($9.49) and the Fruit & Cheese Tray ($6.99). For breakfast, the Yogurt Parfait and My Smoothie are the best options.
JetBlue Airways: 3 ¼ stars - JetBlue is now serving some meal boxes on longer flights, in addition to their array of snacks. Their Shape-Up box ($6.00) contains some tasty treats for 484 calories and the Cheer Up ($6.00) which contains a trio of cheeses, dried fruit and crackers, is only 260 calories. All other meals are over 600 calories, with the exception of the Beef Up, which is high in fat. The healthiest snacks are the nuts and animal crackers.
American Airlines: 3 1/8 stars - Much of the snacks on this airline are high in calories, with few healthy offerings. According to DietDetective, your best bet is the Cheese & Cracker Snack Tray ($4.49). Just skip the cracker packages. The Premium Nut Blend ($4.49) is a strong nutrition choice, but you may want to split it with someone, as it is 487 calories. If you're on a longer flight, the Boston Market Chicken Caesar Salad ($10.00) with chips and dressing on the side is a pretty good meal choice at 470 calories.
Delta Airlines: 3 stars - DietDetective had a hard time getting information on food choices from Delta. Ultimately, their snack choices are not very healthy, even the popcorn isn't standard, but instead a fancy sweetened version from Bentley's. Try the Travel Treat ($5.00) instead, which has chicken salad, wheat crisps cheese spread, raisins and a cookie. Or, the Fruit & Cheese Plate ($6.00) which has nuts, fruit and cheese, or the Breakfast Snack ($3.00)of yogurt, fruit and granola bar.
Continental Airlines: 2 ½ stars - Not a lot of healthy food choices on this airline. Healthy, but high-calorie, almonds are available but most of the snack packs are high in calories. The Mini Snack Box ($4.00) is 408 calories but there is nothing fresh in the pack. For breakfast, a Yogurt Parfait ($3.50) is an option, and the Grilled Chicken Spinach Salad ($8.25) passes muster as well. Southwest Airlines: 2 stars Southwest is a no-frills airline. You get peanuts or pretzels on most flights. On longer flights, you might see cookies, cheese sandwich crackers and Ritz toasted chips, most of which should be avoided.
Virgin America: 2 stars - This is my favorite airline, EVER. They are very customer-service oriented, but they were less than responsive to DietDetective's inquiries on their food offerings, which is reflected in their rating. On the VA website are quite a few healthy offerings, which should garner them a higher rating. But I am biased. Regular offerings on all flights include a Protein Meal (390 calories). On flights over 2 hours, you can get Veggies and Hummus (275 calories), Thai Peanut Chicken Hand Roll (skip the chocolate), and a Power Protein Breakfast (385 calories), all very good choices. For snack, you can try a SweetRiot Yumbar, sure to satisfy your sweet tooth. (Prices unavailable.)
US Airways: 1 ¾ stars - Another uncooperative airline, this time with few healthy choices. Some of their boxes start out healthy, but then add in cookies AND a candy to the mix, ruining the calorie count. The Mareblu Naturals Trail Mix Crunch ($4.00) is 450 calories and could be shared. Also available is the All Day Fruit & Cheese Plate ($7.00). You might like to allocate your own stars rating based on your experience of the different airlines."
From my own experience, I would definitely put Virgin way above American Airlines for their in flight meals. The other concern is that according to the Food and Drug Adminstration (FDA) inspectors, many meals served to passengers on major airlines are prepared in unsanitary and unsafe conditions that could lead to illness.
The inspectors have cited numerous catering facilities that prepare airline food for suspected health and sanitation violations following inspections at the kitchens both in 2009 and 2010 of two of the world's biggest airline caterers, LSG Sky Chefs and Gate Gourmet, as well as Flying Food Group. The three caterers operate 91 kitchens that provide more than 100 million meals annually to US and foreign airlines at US airports. They provide meals for nearly all big airlines, including Delta, American, United, US Airways and Continental. In their defence, all three caterers say they work hard to ensure food is safe. And airlines say they monitor the food that goes onto their planes.
LSG Sky Chefs confirmed they have comprehensive and multilayered quality-control standards in place to ensure their customers receive safe, healthy and high-quality food.
Gate Gourmet said they took the FDA findings very seriously, using an independent auditor for quality assurance.
Flying Food Group commented by saying that their company's facilities are independently audited for quality assurance.
I leave it to you to draw your conclusions – but probably the hygiene conditions in these kitchens are no better or no worse than many hotels and restaurants. For more about these findings by the FDA, go here.
What to do about the food available on airline flights?
Apart from taking along your own food, here are some suggestions for healthy travel food:
If there is a Subway at your airport, chose a foot long or half foot baguette with all the healthy toppings available or
If there is a Starbucks, then treat yourself to a large healthy muffin. Good value for your money.
Always buy a big bottle of water at the airport, then drink as much as you can before boarding to keep you hydrated.
If you want to pack snacks before you leave home, a large bag of trail mix, dried fruit and/or fresh fruit, a small jar of peanut butter with a spoon, a bag of carrot sticks and snap peas or homemade granola are all good healthy options.
Cut up lots of raw vegetables, add a small container of hummus plus a packet of nuts and seeds and you have a very healthy snack.
No one is forcing you to eat airline food – you can make a plan.
Updated at: