California's Prop 37 & The Right to Know What is in Your Food...An Opinion by a Concerned Citizen | Amoils.com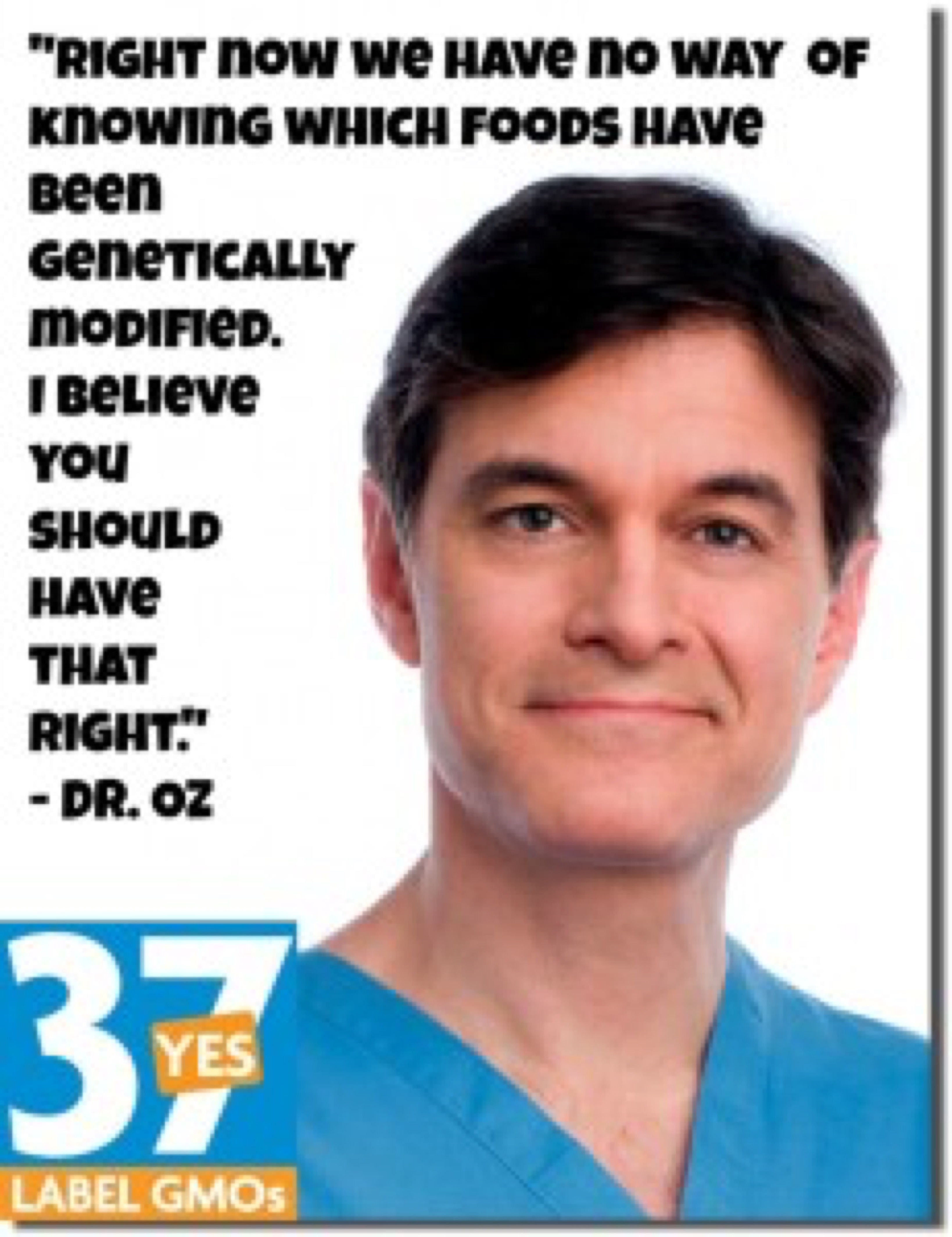 Most of the country is aware that California will be voting on Proposition 37 in the coming election. It is a little unusual for other states to be so aware of a proposition from another state, but this one has the potential for setting a precedent that other states will follow. Many people HOPE that this will set the stage for Genetically Engineered/Modified foods to be labeled. For and unbiased look at the actual proposition, as well as a list of donors "for" and "against" the proposition, you can check out this website
here
. As a California resident, as well as someone interested in healthy food, I have been watching this closely. The "No on 37" campaign ads have been misleading - some focusing on the limitations of the proposition – pictures of "this one is covered, this one exempt – does this make sense?" or concentrating on what the cost of this proposition will add to the cost of food for consumers.
Even if the proposition is not complete, at least it is a start
And food manufacturers change labels all the time! They print labels they apply to the very food we buy (I've yet to buy even an organic apple at the store that does not have a label attached to it). I can't see that the labeling will be adding that much to the cost of food. On the other hand, it may add administrative cost as there will have to be some overseeing to checking up on this labeling.
Yesterday, we received a "No on 37" ad in the mail
It is an expensive mailer, 4-page spread in 5-color process. The gist of the mailer is that the people promoting 37 are doing so because they will make a lot of money from it. The two that are highlighted inside the spread are Jim Wheaton, the lawyer who was involved in writing the proposition, and Joseph Mercola. They claim Wheaton stands to profit from suing small farms who do not comply with the proposition. Mercola whom they call him "a controversial, out-of-state, non-practicing doctor . . . featured in QuackWatch.com" is said to stand to profit because he will be exempt from the California law. "It's no wonder Mercola has already invested $1.1 million in the campaign." At the back of the ad is a list of major daily (California) newspapers who oppose the proposition. In much smaller print, at the bottom, "Paid for by No on 37: Coalition Against the Deceptive Food Labeling Scheme, sponsored by Farmers, Food Producers, and Grocers. Major funding by Monsanto Company, E.I. DuPont de Nemours & Co., Bayer CropScience, Syngenta Corporation, Grocery Manufacturers Association (GMA) and more than 40 food company members, including Bumble Bee Foods, Bunge North America, Inc., LLC, Cargill, Inc., ConAgra Foods, General Mills, Inc., Hershey Company, Kellogg Company, Kraft Foods Global, Inc., McCain foods USA, Inc., Nestle USA, Inc., PepsiCo, Inc., Rich Products Corporation, Solae, LLC, The J.M. Smucker Company. I read the "
Coalition Against the Deceptive Food Labeling Scheme
" from the brochure to my husband and he had a good laugh but is concerned whether 37 will pass because of all the deceptive advertising going on. He explained it to a co-worker, who then said, "Oh, then labeling does make sense." But too many people will believe the ads without someone to explain the other side. And the small amount that the "yes" supporters has raised will not be enough to do competing ads. We are definitely grass-roots and are using venues like Facebook to get the word out. Martina Newell-McGloughlin's statement "
We've been genetically modifying food for thousands of years
" is disingenuous. Yes, we have been hybridizing foods since the beginning of cultivation. That does NOT change the basic gene structure. You can feed tomatoes to fish. You can fertilize the tomatoes with fish. Neither one will change the gene structure of the fish or the tomatoes. What we are doing now cannot ever happen in nature, and it is NOT "
far more precise, far more predictable, far more controlled
" than what happens in nature. We have NO IDEA what this change in gene structure will do in the following decades. Anyone who gives it some thought will know that far more than $1.1 million has been spent to send out this mailer! The above-listed site shows that the number one opponent to this is Monsanto, at $7,105,582. And that is just ONE of many donors. Guess who is worried about their money?
On Wednesday 17 October the Dr Oz program talked about the California proposition
I know many consider him "Dr Sell-Out," but I maintain that he is in a very difficult position. I believe that overall he has a fair grasp on what is truly healthy. BUT if he goes too far in what he says he stands a good chance of losing his show and the opportunity to influence people. From the shows I have seen, I would estimate that at least 60% of what he recommends is on target with what many of us believe about natural health. Then probably another 20% is neither good nor bad. The remaining 20% can often be bad advice. But on this particular show, Dr Oz stated he believes people have the right to know what is in their food, and that his wife was one of the narrators in Jeffrey Smith's Genetic Roulette. He also said that he was unable to find scientists willing to share the stage with 37's promoters. He said that the scientists willing to come speak against 37 would not be on stage with those who were promoting it.
He did present a basic view of what GE/GMO actually is. One example was to take a gene from a cold-water fish and insert it into a tomato so that the tomato would be able to grow in colder climates than what is natural/normal.
He then had his first two guests, Jeffrey Smith and Dr Robin Bernhoft, past president of the American Academy of Environmental Medicine. One thing they noted was the tumors in the rats given GMO foods. They said these rats are predisposed to tumors. They naturally occur at about 20%. However, the group of GMO rats had tumors at 80%. After they left the stage, the next guest was Martina Newell-McGloughlin, C0-director NIH Training Program in Biomolecular Technololgy at UC Davis. Her first statement was, "
We've been genetically modifying food for thousands of years. Modern techniques are far more precise, far more predictable, far more controlled than these 'older' studies. In addition, they're more thoroughly studied than any food or agricultural process in the history of food and agricultural process ever in the history of food and agricultural research.
" As for the rat tumors, she said that rat kibble given to the rats for the past 15 to 20 years contains GMOs and there has been "
no increase whatsoever of spontaneous tumors above what you expect for this particular breed of rat
." She also said that she feeds her kids GMOs and would choose them for her family as "
safer
." Gary Hirshberg (formerly of Stoneyfield Farms) and founding partner of "Just Label It" was next. He stated that Emery University predicts that the labeling costs will be just 73 cents ($0.73) per person. He also feels that people have the right to know what is in their food. He said that the costs that are being predicted as much higher are diversionary tactics and that if these companies (against labeling) are so proud of their work and feel they are safe, why won't they label? He did share the stage with Alison Van Eenennaam, Ph.D. Animal Scientist who said that it is predicted that the costs of this proposition will be about $400/family/year. She said as a consumer she will have to absorb those costs and she's opposed to it. "
As a scientist, I've looked at the data
" (on GMOs) and she believes them to be safe. She said that 60-70% of processed foods already contain GMOs and "none of it requires labeling." She said the way to avoid GMO is already there, to just buy organic. Then Dr Oz had a segment on how to avoid GMO foods if you are concerned. He listed those things (canola, corn, sugar beets, etc.) that generally are GMO and suggested alternatives (olive oil and a couple of others) before moving on to other things.
AnnMarie Michaels (also known as "Cheeseslave" in her blog) is a California resident and big supporter of Prop 37
She posted the link to the Oz program at Facebook. I said "I wish he had shared if the scientists- who wouldn't take the stage with the folks telling us how bad GMOs are -had any financial backing from the GMO corporations." She kindly did some research. UC Davis agricultural program is massively funded by the biotech companies. "A 'who's who' of international biotechnology companies fund work at UC Davis. They include Monsanto, Syngenta, DuPont and Bayer. Some grants pay for specific research, but many arrive with no official strings attached. Whatever the form, the companies get something in return - access to the university's talent pool and, often, first crack at its scientific breakthroughs." Seeds of Doubt, Biotech Industry Funds Bumper Crop of UC Davis Research (At the top of this it says Sacramento Bee, a California newspaper that is listed as one of the opponents of Prop 37.)
Ultimately, will it make a difference if 37 passes?
In a large sense, I don't think so. People who are avoiding GMOs already have a handle on what to avoid. Prop 37 will make it a little easier. People who are eating conventional "food" and uninterested in health are not likely to change. for example, I have not heard that anyone is eating differently since the fast food places have begun to post calorie information. I think if someone sees a GMO label on their favorite snack food, they are likely to think, "Well, I've been eating it all along and it hasn't hurt me yet." Many people are likely to keep to their current course.
It will raise an awareness
For some who are dealing with health issues, it might make more of a difference for them and they may make changes. Some of the people who choose to make changes will see a difference in how they feel. They may share that with others, and so more people may become aware of the issue as time goes on - if it is not too late by then. In closing, I would like to point out that in addition to the companies listed above in the "No on 37" brochure I received, the following is a partial list of companies that have contributed $100,000 or more to the "no" campaign: Coca-Cola North America, Nestle USA, Del Monte Foods, Hormel Foods, Ocean Spray Cranberries, Sara Lee, Bimbo Bakeries, Pioneer Hi-Bred International, Pinnacle Foods, Dean Foods Company, Campbell's Soup, McCormick & Company, Wm. Wrigley Jr. Company, Rich Productions Corporation, Dole Packaged Foods, Knouse Foods Cooperative, Mars Food North America. Other food companies who have contributed to the "no" campaign (but with checks of less than $100,000) include Sunny Delight Beverages, McCain Foods, Dole Packaged Foods, Heinz, Idahoan Foods, Richelieu Foods, Land O'Lakes, Morton Salt and Godiva Chocolatier.
At least you now know which foods and companies to avoid!
Thank you Katee and, here at Healing Natural Oils, we too are trying to spread the word that we all have the right to know what is in our food.