Delicious Dates for Dessert &12 Hints for Your Health | Amoils.com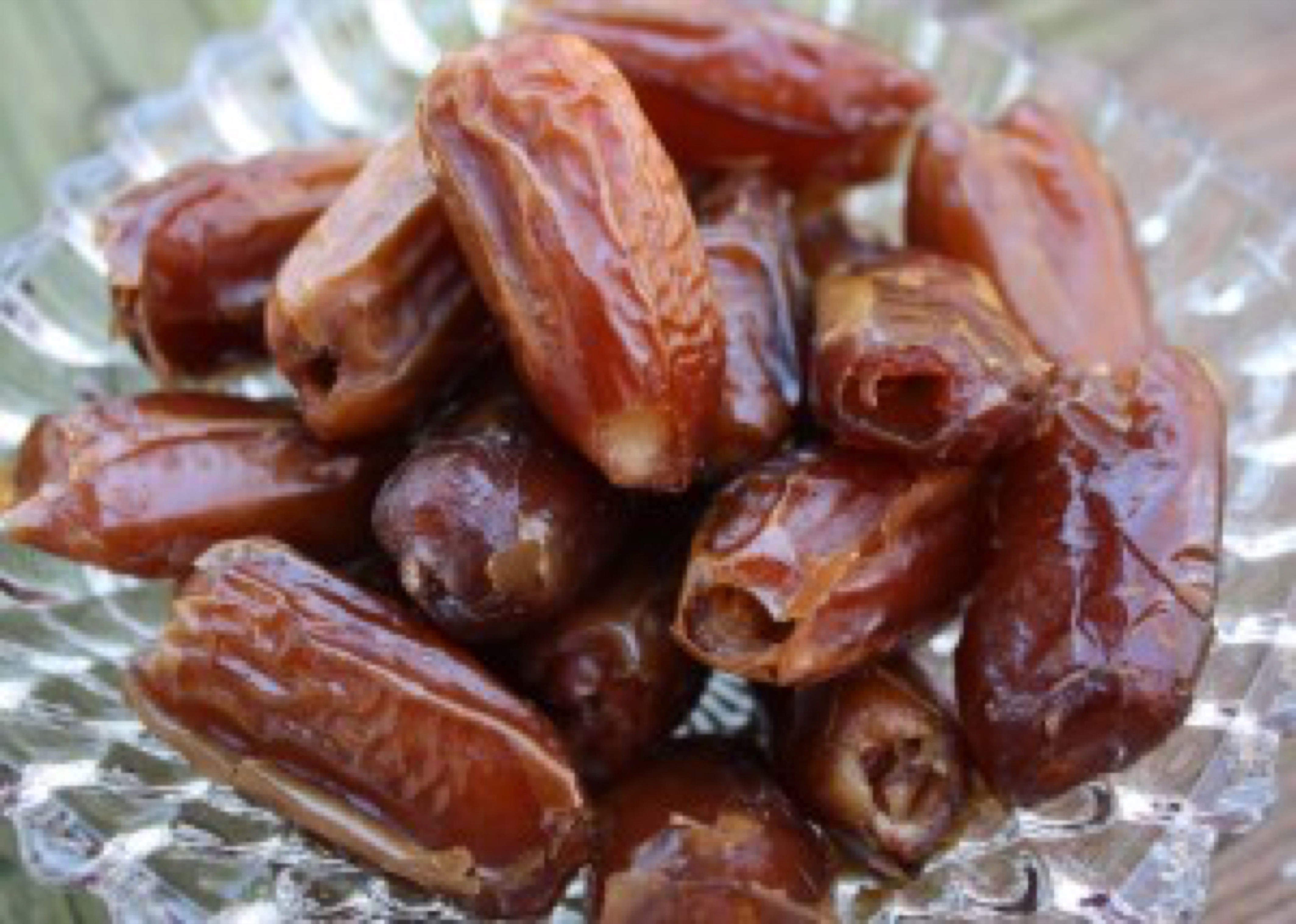 The very best time to eat dates is when they are fresh, in season and bursting with natural juices. But if that is not possible, indulge in raw dried dates packed snugly together in their box – more concentrated but still full of goodness.
Dates have been cultivated since ancient times, providing a staple for the diet of countries in the Middle East. According to archaeologists, the date palm was first cultivated in the eastern Arab region before spreading to northern Africa, South East Asia and some Mediterranean countries such as Spain and Italy.
In more recent times, the fruit was introduced to Mexico and California, and then Arizona. Popular in Middle Eastern and Mediterranean cuisine, fresh dates have become more well known recently. When I was growing up, I only remember dried dates, which were one of the many goodies that appeared and were enjoyed at Christmas time, but now of course fresh dates are often available.
Dates eaten in moderation will give you a host of health benefits
1. They are free from cholesterol with very little fat but are rich in vitamins and minerals. Calcium is an important mineral that is an essential constituent of bone and teeth, and required by the body for muscle contraction, blood clotting and nerve impulse conduction; copper is needed in the production of red blood cells; while magnesium is essential for bone growth. Being easily digested, dates provide the perfect snack to get you energized when you need that sudden burst.
2. They help to improve the digestive system, being high in soluble and insoluble fibers as well as different kinds of amino acids. These same fibers help with alleviating constipation. If you only have access to dried dates, soak them overnight in water and eat with a drink of water as a natural laxative or after being immersed in water at night, make into a fine syrup the next morning and drink. At the same time, the fiber content helps to protect the colon mucous membrane by binding to cancer-causing chemicals in the colon.
3. Dates are rich in potassium but low in sodium, helping to regulate and promote a healthy nervous system. Research has recommended that a higher intake of potassium (about 400 mg) can cut the risk of stroke by 40 percent.
4. They have a high iron content so very useful in treating anemia.
5. Dates also have natural fluorine (not to be confused with fluoride which is toxic) that slows down the process of tooth decay.
6. They are rich in vitamin B1, B2, B3 and B5 along with vitamin A1 and C.
7. Dates are an especially good source of vitamin A which is one of the vitamins that is much better to ingest through your food than with a supplement. Vitamin A is known to have antioxidant properties, is essential for good vision and for maintaining healthy mucus membranes and skin.
8. Problems with
sexual enhancement
and stamina? Soak a handful of dates in goat's milk overnight. Next morning, grind or liquidize the dates into the milk and enjoy a drink with added honey and cardamon.
9. Regular consumption of dates has been found to check the growth of pathological organisms and help in the growth of that very important and friendly flora and bacteria in the intestines.
10. Moms-to-be may be interested to read that some studies conclude that eating dates can strengthen the uterine muscles. This is beneficial particularly in the last months of pregnancy while dates can also help dilation at the time of delivery. Additional research has found a link between dates and a reduction of bleeding postpartum.
11. Two further good reasons to include dates in your diet when you are pregnant are that dates are believed to contain elements that assist in alleviating depression in mothers while enriching the breast-milk with those nutrients needed to make the new baby healthy and resistant to disease. Dates would certainly make the perfect pregnancy "craving" food!
12. Research in Israel has found that eating dates daily for four weeks can improve the quality of lipids (fats) in the blood without raising sugar levels.
With its impressive list of health benefits, make the effort to seek out some easily digestible dates, whether fresh or dried, to include in your diet.