Ergonomic Work Stations | Healing Natural Oils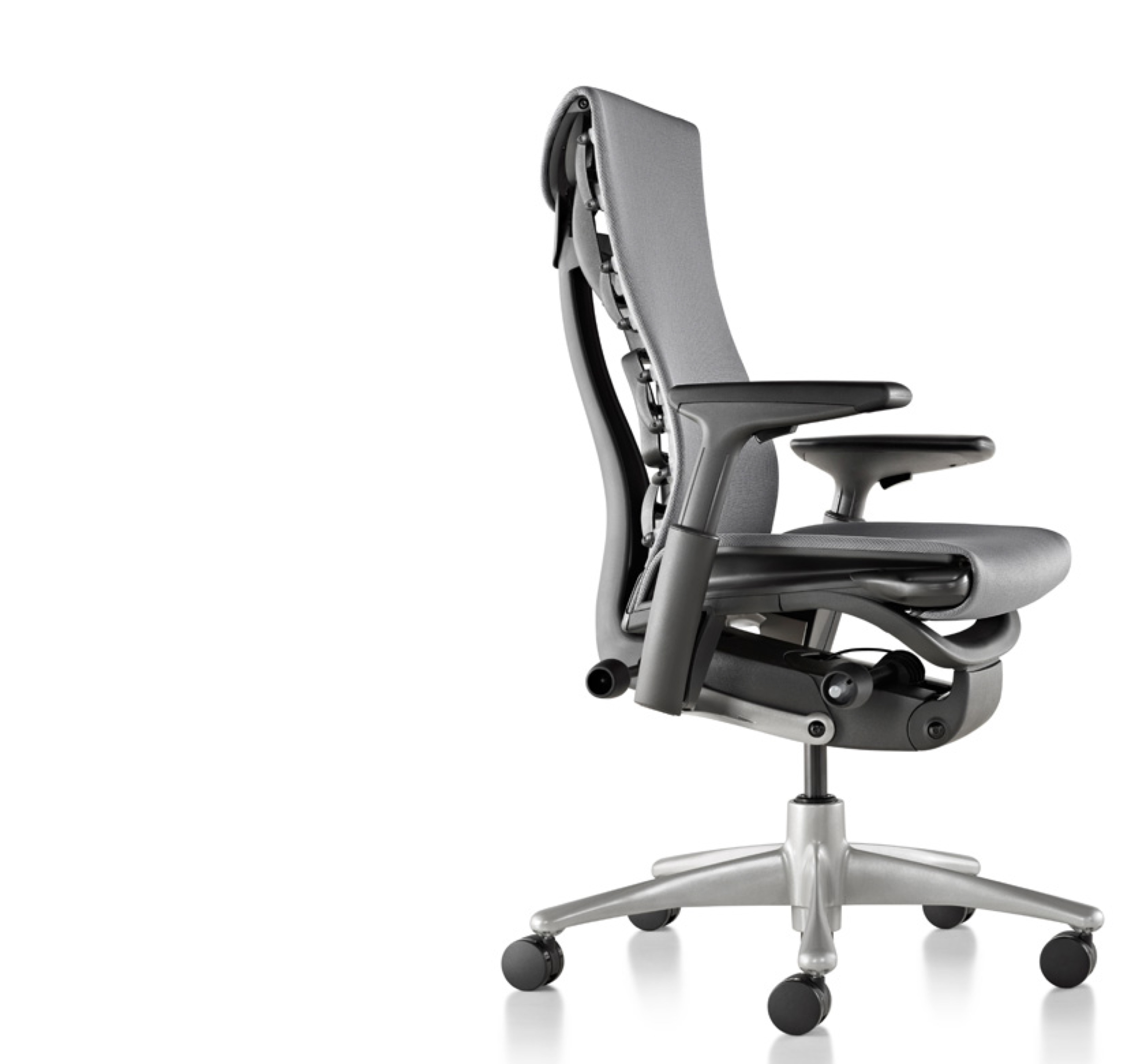 Most people working in an office today have a much more sedentary lifestyle, whether they are in company premises or have their own set up at home, making it more important than ever that they have an ergonomic work station.
What does ergonomic mean?
'Ergonomics' is the name given to the science of designing environments and products to match the individuals who use them. It comes from the Greek 'ergon' meaning 'work' and 'nomos' meaning 'law'. However, it is definitely not the case that "one size fits all" so individual solutions are important. Employers often need to be educated on how to (a) fit the job to the worker through task design and procedures and (b) fit the worker to the job through the use of proper placement procedures and training. Through ergonomics, the prevention of physical damage or injuries is achieved with the added bonus of enhancing performance and comfort.
Understanding and promoting ergonomics has many benefits
Promotes better health
Improves body posture
Reduces absenteeism
Increases productivity through better work organization.
Helps prevent Repetitive Strain Injuries (RSI) or carpal tunnel syndrome (CTS)
Provides relief from:
Stress
Fatigue
Eye strain
Headaches
Blurry vision
Back problems and
Neck problems
What do you need for an ergonomic work station?
Apart from pleasant surroundings, a comfortable room temperature and a clean and healthy air supply, the two most important components are your chair and your keyboard.
Products and companies that help
There are lots of options for these available online but suggestions include:
Recaro ergonomic chairs and heavy duty office chairs that provide highly adjustable, comfortable and feature-rich choices, particularly if different people are going to be using the same chair but at various times such as in call centers or 24 hour help centers.
If the chair is for you and you alone, then the top of the range is the Herman Miller Embody which has so many settings that you can customize the chair to your own body and the ultimate luxury is that the chair moves with you when you move. Expensive to buy but what price do you place on your health? With a 12 year warranty and a high tech mesh fabric, it would appear to be the best ergonomic chair you can buy. As the company itself reminds us: "We sit in the office and at home, staring at our computer screens moving nothing but our fingers. We get stiff and tired. Because sitting is bad for you. Embody is good for you. An agile chair that keeps your body and brain limber all day. Designed specifically for people who work for hours at computers, Embody is the first work chair that benefits both mind and body."
Much less expensive and some 10% of the price is Flash Furniture High Back Ergonomic Task Chair with adjustable arms in black and gray. It allows you to change the height of the seat and the back plus a system with 3 paddles allowing adjustment of the tilt and angle of the back seat together with a tilt tension control mechanism. Even the polyurethane added arm rests are adjustable. The price tag is around $120.
A suggested keyboard is the Microsoft Natural Ergonomic Keyboard 4000 together with either the Evoluent Left Handed Vertical Mouse 4 Ergonomic Mouse or the Evoluent Right Handed Vertical Mouse 3 Ergonomic Mouse. You can find out more here
How to stay fit in the office?
There is a major difference both to our health and to the way our body responds when (a) we sit and (b) when we simply stand or move around a bit. Even just minor movements can make all the difference in preventing that physiological decline that we suffer when sitting. One of the health implications of sitting too long can be the dreaded
hemorrhoids.
If you are sitting at your desk working, what can you do?
There is so much you can do and we give you lots of information and tips in our post here. Be aware that if you are prone to headaches or migraines, office fluorescent overhead lighting can be a trigger causing considerable pain and discomfort. It is now well known that just a few minutes of green exercise during your working day can be very beneficial. If you can make your way to a local park or green area for an absolute minimum of 5 minutes every lunch break, your mental health will benefit from this
green exercise
. Your eyes are invaluable too. Think about adding some exercises to your routine.
Here
are some suggestions.
When you type, you should keep your wrists straight, with your hands a little higher than your wrists. Always relax your shoulders when your arms are at your sides. Switch hands often when you repeat movements.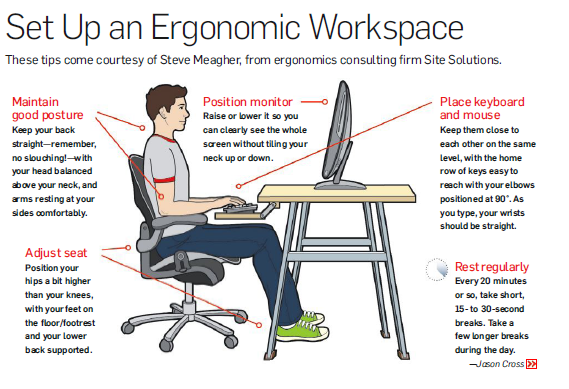 Updated at: