Evening Primrose is Health Giving & Sweet Smelling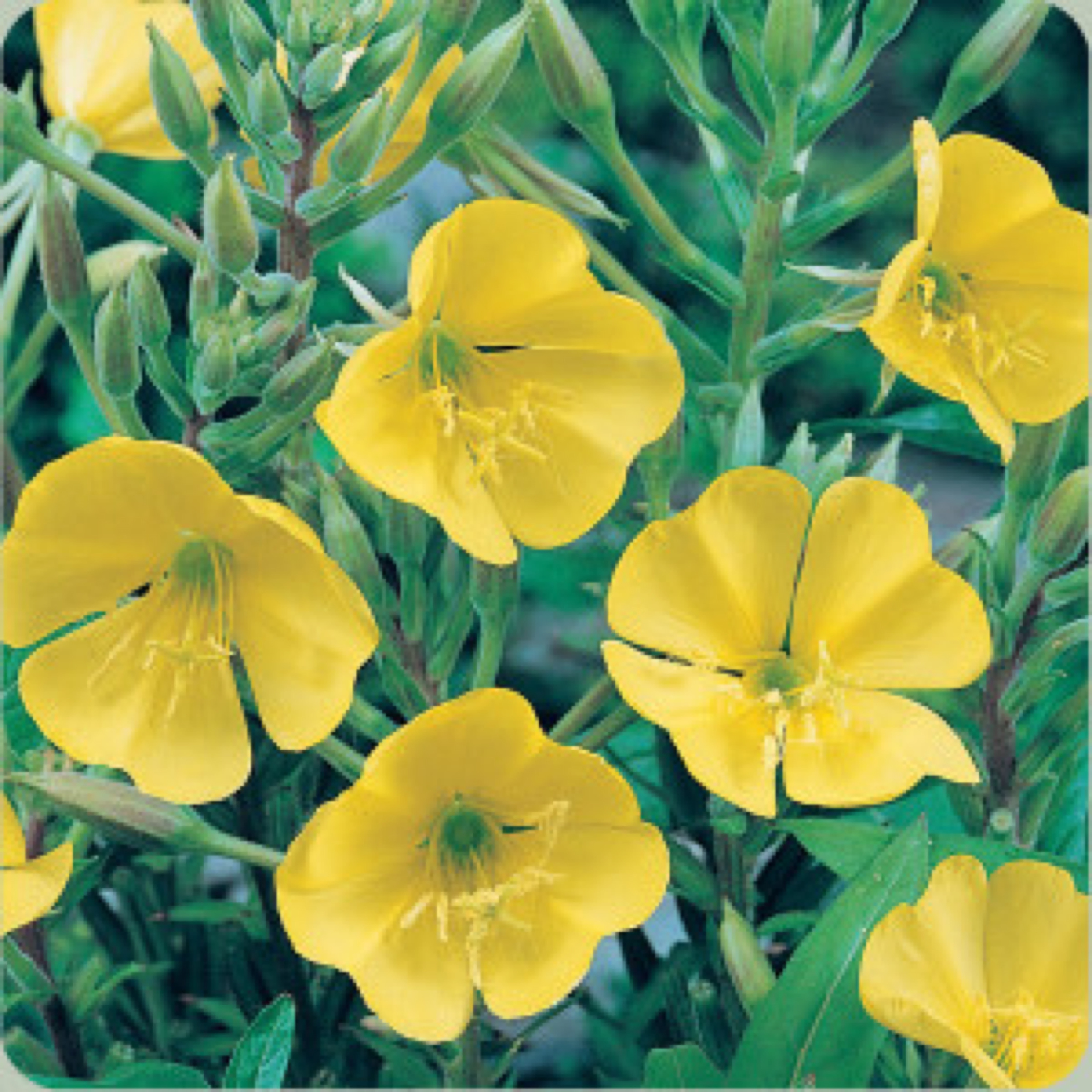 Many herbalists recommend evening primrose, with its multiple preventive and therapeutic qualities, to maintain youth and prevent disease. It is highly regarded as a major preventative discovery likened to vitamin C.
In addition, studies worldwide are looking at evening primrose as a treatment for many conditions including ageing problems, alcoholism, acne, heart disease, hyperactivity in children, symptoms of menopause, multiple sclerosis, weight control, obesity, PMS and schizophrenia.
This well known medicinal herb has pretty yellow blooms that open at night to give off their sweet scent. Evening primrose can grow to over a meter high in fields, in ditches or on the edges of ploughed fields as long as there is a little moisture, the area gets some sun and the soil is well-drained. Evening primrose is a plant native to North America, but it grows in Europe and parts of the Southern hemisphere as well. Of course you can grow it in your garden too.
Evening primrose oil contains gamma-linolenic acid (GLA) which is an essential fatty acid. We all need essential fatty acids for growth and development. Evening primrose also contains the pain relieving compound phenylalanine and is increasingly being used to treat chronic headaches.
If grown or collected yourself, the leaves, flowers and stems can all be used at home for different uses as set out below. Evening primrose oil is extracted from the seeds and put into capsules for use and sale in natural health stores.
Natural medicinal benefits include
The long time use for eczema (a condition in which the skin becomes inflamed, itchy, or scaly because of allergies or other irritation), helping to reduce the symptoms of eczema.
More recently it has been used for other conditions involving inflammation, easing the joint pain and swelling in rheumatoid arthritis.
Combating damage from multiple sclerosis (MS).
And there is more
Evening primrose oil is used for conditions affecting women's health, such as breast pain associated with the menstrual cycle while relieving the discomforts of PMS, menopause, menstruation, endometriosis and fibrocystic breasts.
Evening primrose is being used to help prevent diabetes-associated nerve damage.
Treating Alzheimer's-related memory deficiencies.
Countering male impotence and female infertility.
Nourishing nails, scalp and hair.
Preventing alcohol withdrawal symptoms.
You can make your own home remedies
Boil together the leaves and stems in some water to make a soothing astringent lotion as an excellent wash for eczema and psoriasis as well as other skin conditions such as rashes, insect bites, scrapes and grazes.
For very dry skin, heat together a cup of chopped leaves, buds and stems with a cup of aqueous cream before removing from the heat, straining and cooling.
For spots, rashes and itchy mosquito bites, just crush the flowers and apply to the affected area.
This much loved herb is well tolerated by most people - in rare cases there may be some mild side effects including gastrointestinal upset and headache especially when too much is taken.
Sources
Appendix 1: Physical activity guidelines for Americans. (2008)
https://health.gov/dietaryguidelines/2015/guidelines/appendix-1/. (Accessed, 5 October 2021).
Bayles, B., & Usatine, R. (2009, December 15). Evening primrose oil. American Family Physician, 80(12), 1405–1408
https://www.aafp.org/afp/2009/1215/p1405.html. (Accessed, 5 October 2021).
Chmielnicki, B. (2003). Evidence based acupuncture. WHO official position
https://www.evidencebasedacupuncture.org/who-official-position/. (Accessed, 5 October 2021).
Dadkhah, H., Ebrahimi, E., & Fathizadeh, N. (2016, March-April). Evaluating the effects of vitamin D and vitamin E supplement on premenstrual syndrome: A randomized, double-blind, controlled trial. Iranian Journal of Nursing and Midwifery Research, 21(2), 159–164
https://www.ncbi.nlm.nih.gov/pmc/articles/PMC4815371/. (Accessed, 5 October 2021).
Ebrahimi, E., Motlagh, S. K., Nemati, S., & Tavakoli, Z. (2012, November 22). Effects of magnesium and vitamin B6 on the severity of premenstrual syndrome symptoms. Journal of Caring Sciences, 1(4), 183–189
https://www.ncbi.nlm.nih.gov/pmc/articles/PMC4161081/. (Accessed, 5 October 2021).
How acupuncture can relieve pain and improve sleep, digestion and emotional well-being. (n.d.). 
http://cim.ucsd.edu/clinical-care/acupuncture.shtml. (Accessed, 5 October 2021).
Updated at: