Gluten Free Thanksgiving Dinner | Amoils.com
So it is decided that a blog post for a
gluten free
Thanksgiving dinner is a good idea seeing as it is that time of the year. But wait a minute – there is just one problem. I have never sat down to a Thanksgiving dinner and in fact I have never even stayed in the USA during that time of the year. I have joined in every other kind of celebration – Halloween, Christmas, New Year, Easter, 4th of July but one is missing. So what to do? Oh I know, get my American girlfriends to do the work for me and share their favorites instead! Luckily they are all health conscious too... I guess we need a starter followed by the turkey with all the trimmings and then dessert. So girls, how about it?
Kale & Gruyere Tart with Polenta Millet Crust

Rachel from San Diego has provided this substantial starter and tells me that she had fun playing with this recipe and it will be part of her gluten free holiday table this year for Thanksgivukkah! She adds "Isn't it great to have something that can be served at room temperature and save oven space?"
For the crust
1/2 cup fine polenta 3/4 cup gluten free flour mix (Cup4Cup brand is great) 3/4 teaspoon sea salt 6 T cold unsalted butter, cut into ¼ - inch cubes, plus more for pan 3-4 T ice water 1/4 cup raw millet
For the filling
1/2 pound kale - ribs and stems removed and torn into large pieces 1 T extra-virgin olive oil 1/2 cup minced shallots (about 3 shallots) 1 leek, cleaned and thinly sliced ¾ cup fresh shiitake mushrooms, wiped clean and sliced 2 cloves garlic, minced 1 cup whole milk 1/4 cup Greek yogurt or crème fraîche 1/2 cup grated Gruyere (about 2 ounces) 2 free range eggs, beaten 2 tsp thyme Generous pinch nutmeg 1 tsp sea salt 1/8 tsp freshly-ground black pepper 1 tablespoon extra virgin coconut oil (unflavored)
Prepare the Crust
: Butter a 9" or 10" tart pan (with a removable base). Using a food processor, pulse together the polenta, flour and salt, adding cubes of butter and pulse until mixture resembles coarse meal. Add ice water and pulse until the dough starts to look like wet sand. (Test to see if it's done by gently squeezing a small piece between your fingers: you're looking for it to hold together and not crumble away. Too crumbly, add more water, 1 teaspoon at a time. Turn the dough out into a large bowl and mix in the millet using a fork, working quickly. Press the dough evenly into the bottom and up the sides of the prepared pan. Chill in the refrigerator for at least one hour and up to one day. Preheat the oven to 375°F. Place the prepared crust on a small baking sheet and bake for 15 minutes to slightly dry out the top.
Prepare the Filling
: Add the kale to a large pot of salted boiling water. Cook until just softened, about 2-3 minutes. Use a slotted spoon and transfer the greens to a large bowl of ice water to stop the cooking. Remove from the cool water and, using your hands, squeeze as much water from them as possible and lay the greens out on good work surface. They tend to clump into balls when squeezed, so spend a few moments separating it and "declumping" the kale. In a small sauté pan over medium heat, warm the olive oil and sauté the shallots until translucent, 2-3 minutes. Add in the garlic and sauté for an additional minute. Remove from heat and set aside. Heat the coconut oil in a sauté pan. Add sliced shiitakes and sauté until lightly browned. Add sliced leeks, sprinkle with a little salt to draw out moisture and sauté until leeks are soft. Add a little water to pan if it's too dry but cook off all moisture. Combine this mixture with the kale mixture. Gently fold to incorporate. In a medium bowl, whisk together the milk, Greek yogurt, Gruyere, eggs, herbs, salt and pepper.
Finally
: Put the tart pan with prepared crust onto a baking sheet. Spoon the shallot mixture on top of the prepared crust, followed by the cooked greens/leeks/shiitakes (arrange them evenly). Pour the custard mixture on top of the whole thing. Bake for 40-45 minutes or until the top is golden brown and the filling is completely set. Let cool for 15-20 minutes, unmold the tart and serve warm or at room temperature.
And the gluten free trimmings for the turkey?
Katee from Big Bear in California suggests a gluten free bread stuffing which her husband particularly enjoys and which can be found
here
. Then Katee has given me her own recipe for:
Cranberry sauce
2/3 cup sugar
1 cup water or orange juice
4 cups fresh cranberries
1 tsp cornstarch/cornflour
Optional: pecans, orange zest, raisins, currants, blueberries, cinnamon, nutmeg, cloves, allspice, fresh ginger
Wash and pick over cranberries. In a saucepan bring to boil the water and sugar, stirring to dissolve. Sprinkle in cornstarch and stir to dissolve. Add cranberries, return to a boil. Reduce heat, simmer for 10 minutes or until cranberries burst. At this point you can add any optional ingredients you desire. Remove from heat. Cool completely at room temperature and then chill in fridge. It will thicken as it cools, giving you about 2 ¼ cups of sauce.
Roast acorn squash
Bets who is always busy working in the ER of a New York hospital gave me this simple suggestion. Cut the acorn squash in half, pierce the flesh in several places with a fork before spreading on some coconut oil. Roast in the oven until cooked. Scoop out and mash before serving along with some Brussels sprouts that have been chopped up and sautéed with garlic.
Savory Biscuits
Peggy who has her own small farm in Maine gave me her easy recipe for savory biscuits to be baked in the oven at 350˚while Patty (who lives in Sweet Home Alabama and is a keen container gardener, providing her with fresh herbs and veggies) shared the same recipe. Could Peggy and Patty be the terrible twins?
6 T coconut flour
6 T lard or coconut oil melted
2 free range eggs at room temperature
1/4 C minced onion plus a clove or two of minced garlic
2 T yogurt or almond milk
1 T fresh herbs dried herbs (dill, thyme, oregano, rosemary or whatever you have available)
1/4 tsp baking powder
1/2 tsp organic apple cider vinegar
Natural salt to taste
Line large cookie baking sheet with parchment paper. Mix everything up, working fast while coconut oil is still soft. Drop spoonfuls onto the sheet and bake for 12 to 15 minutes. Cool at least 10 minutes before serving or they will be too crumbly. Makes 10 to 12 flattish but yummy biscuits.
Desserts are often the highlight of the meal!
Dawn from West Virginia always has a good word to say about everyone including her family of cats. She is a great fan of Elana's Pantry recipes so she suggested Elana's Paleo Pumpkin Pie as a classic Thanksgiving dish.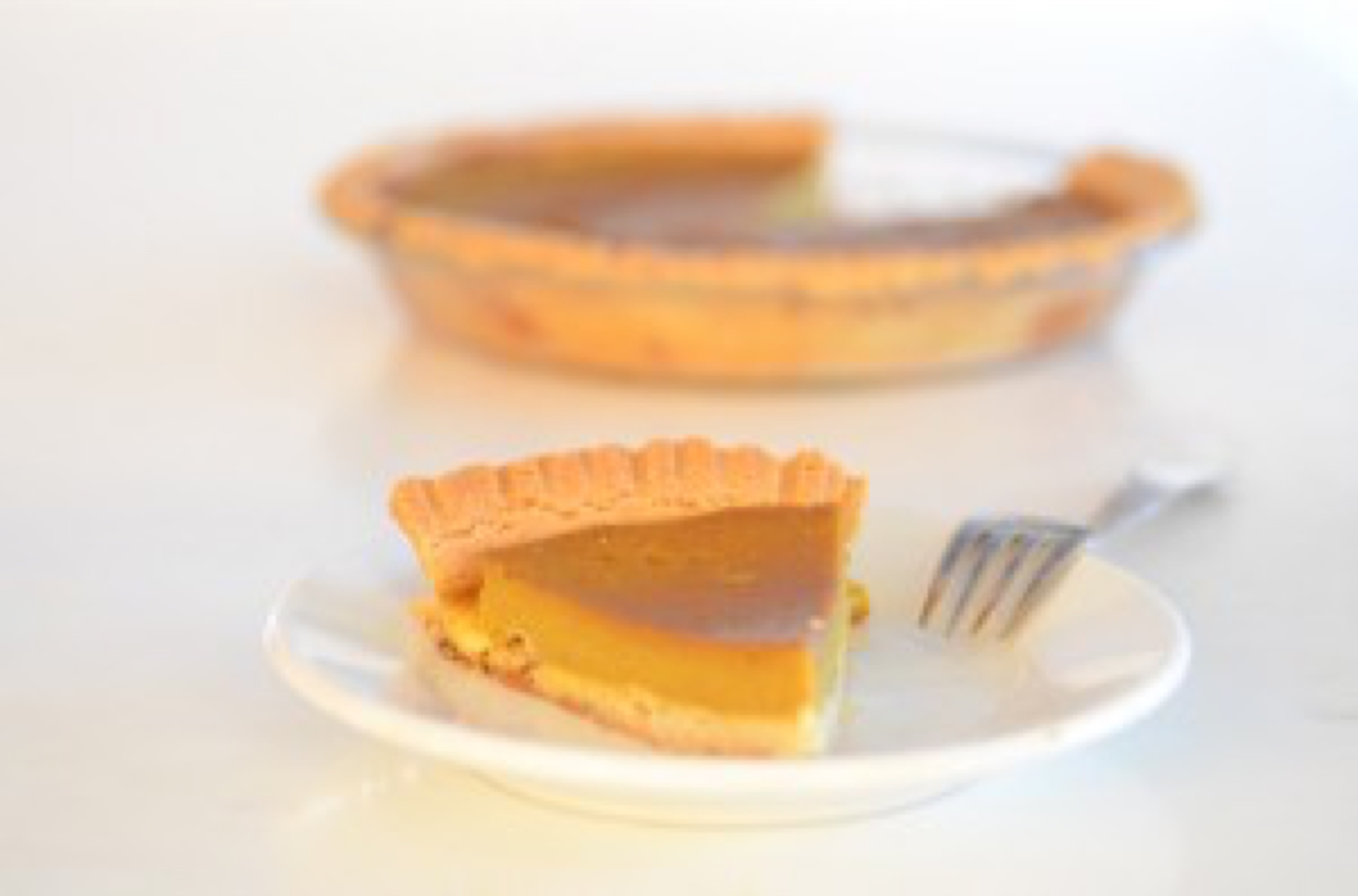 1 x 15 ounce can pumpkin puree (or 1½ cup homemade pumpkin puree)
3 free range eggs
½ cup coconut milk
⅓ cup raw honey
1 teaspoon cinnamon
½ teaspoon nutmeg
1 Paleo Pie Crust, unbaked
In a food processor combine pumpkin puree, and eggs. Pulse in coconut milk, honey, cinnamon, and nutmeg. Pour filling into Paleo Pie Crust. Bake at 350° for 45 minutes. Allow to cool then refrigerate for 2 hours to set up.
copyright © 2013 elana's pantry. all rights reserved.
A big thank you, girls, for helping me out and I do hope you will all try out each other's recipes too!
And who knows, maybe next November I will be able to enjoy a Thanksgiving dinner in the USA myself.