Grow A Healthy Herb Garden For Summer with 10 Herbs To Choose From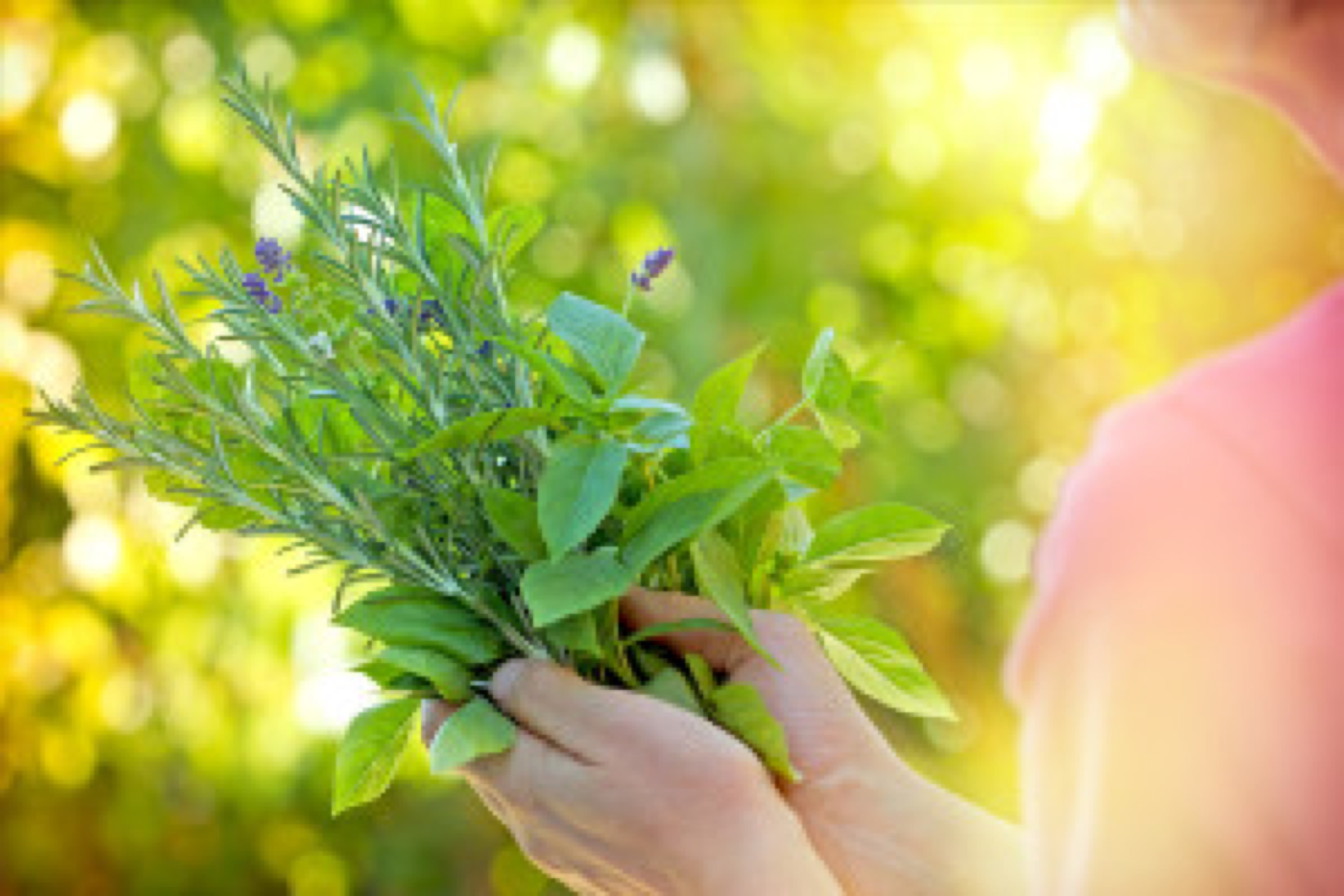 With summer fast approaching in the northern hemisphere, you might like to start your very own herb garden. This can be a sunny corner of your back yard or front garden, or it can be a container herb garden on your balcony or window ledge (just as long as your herbs get a good few hours of sun each day). Just choose yourself a suitable and sunny spot.
Herbs come in such a wide range of beautiful colors and textures that you can really go to town with them to achieve a delicious and interesting effect. Plus you will have a fresh supply for cooking, as well as using in healthy home remedies, and they will look and smell especially good too.
Some herb ideas for you to use
1. Basil to sprinkle on salads, add to tomato dishes or to freshly steamed and buttered carrots. Happier outside, basil will thrive in a warm and sunny position and remember to pinch any flowers off immediately to help it branch where pinched to grow nice and bushy. Basil is an herbal carminative, which can relieve gas and soothe stomach upsets. Research has also indicated that basil helps prevent ageing.
2. Chives are one of the easiest of herbs to grow and will keep multiplying if you leave them alone. Don't be tempted to give them a haircut, but cut a few strands right down to the base and add to salads, dips and soups for a mild onion flavor. This attractive clump forming plant is happy in any part of the garden.
3. Coriander can be used in two ways. The lower leaves can be picked and used instead of parsley while the seeds can be dried and kept for cooking purposes.
4. Dill is grown fresh from seed each year. Then you harvest and dry the fresh new seeds as they develop. They can be used in pickling, salads and fish dishes.
5. Marjoram is an attractive and decorative plant which likes its place in the full sun. Pick the leaves fresh for use in cheese or meat dishes. The leaves can also be dried and kept for later.
6. Mint is an over enthusiastic grower that will become invasive if you let it. Best to grow in a pot or container to keep it under control. A "must have" for the herb garden though and great for making a mint tea, adding to cool drinks in the hot summer months or chopping up fine to serve with new, boiled potatoes and make a mint sauce with vinegar and a little sugar to serve with lamb dishes.
7. Sage is a versatile plant which has either purple or silver green foliage. Pretty enough to plant in the flower beds too. Sage leaves will add flavor and remember that sage and onion makes a tasty stuffing for roast meat such as chicken.
8. Sorrel is perfect to add to soups while the young leaves give a lemony tang to salads. Larger leaves can be used as a filling in an omelette.
9. Thyme is an all round useful herb which you can grow successfully in containers or even better, plant in those cracks between paving slabs or stepping stones. If you have a pathway in your herb garden, then thyme can fill in any spaces. Thyme leaves can be added to meat and poultry dishes.
10. Parsley is so healthy and should be included in your diet every single day for optimum benefits. Best fresh of course, but can be dried or even frozen and used as a garnish. You may find that your parsley will seed itself every year or you might have to plant fresh seed - especially if you live in a cold climate. Perfect in your daily veggie/fruit juice and smoothie.
Everyone can grow herbs and the more you grow, the more uses you will find for them.
Sources
Ani, V., et al. (2011). Antioxidant potential of bitter cumin (Centratherum anthelminticum(L.) Kuntze) seeds in in vitro 
https://www.ncbi.nlm.nih.gov/pmc/articles/PMC3112436/. (Accessed, 7 November 2021).
Balakrishnan, A. (2015). Therapeutic uses of peppermint—a review.
https://www.jpsr.pharmainfo.in/Documents/Volumes/vol7Issue07/jpsr07071524.pdf. (Accessed, 7 November 2021).
Basith, S., et al. (2016). Harnessing the therapeutic potential of capsaicin and its analogues in pain and other diseases.
https://www.ncbi.nlm.nih.gov/pmc/articles/PMC6272969/. (Accessed, 7 November 2021).
Best spices for arthritis. (n.d.).
https://www.arthritis.org/health-wellness/healthy-living/nutrition/healthy-eating/best-spices-for-arthritis. (Accessed, 7 November 2021).
Bodagh, M.N., et al. (2019). Ginger in gastrointestinal disorders: A systematic review of clinical trials.
https://www.ncbi.nlm.nih.gov/pmc/articles/PMC6341159/. (Accessed, 7 November 2021).
Bode, A., et al. (2011). Chapter 7: The amazing and mighty ginger. Herbal medicine: Biomolecular and clinical aspects, 2nd edition.
https://www.ncbi.nlm.nih.gov/books/NBK92775/. (Accessed, 7 November 2021).
Fadus, M.C., 
et al. 
(2017). Curcumin: An age-old anti-inflammatory and anti-neoplastic agent.
https://www.sciencedirect.com/science/article/pii/S2225411016302528
. (Accessed, 7 November 2021).
Updated at: