Here is a Super Food Seed to Sprout that is Gluten & Wheat Free | Amoils.com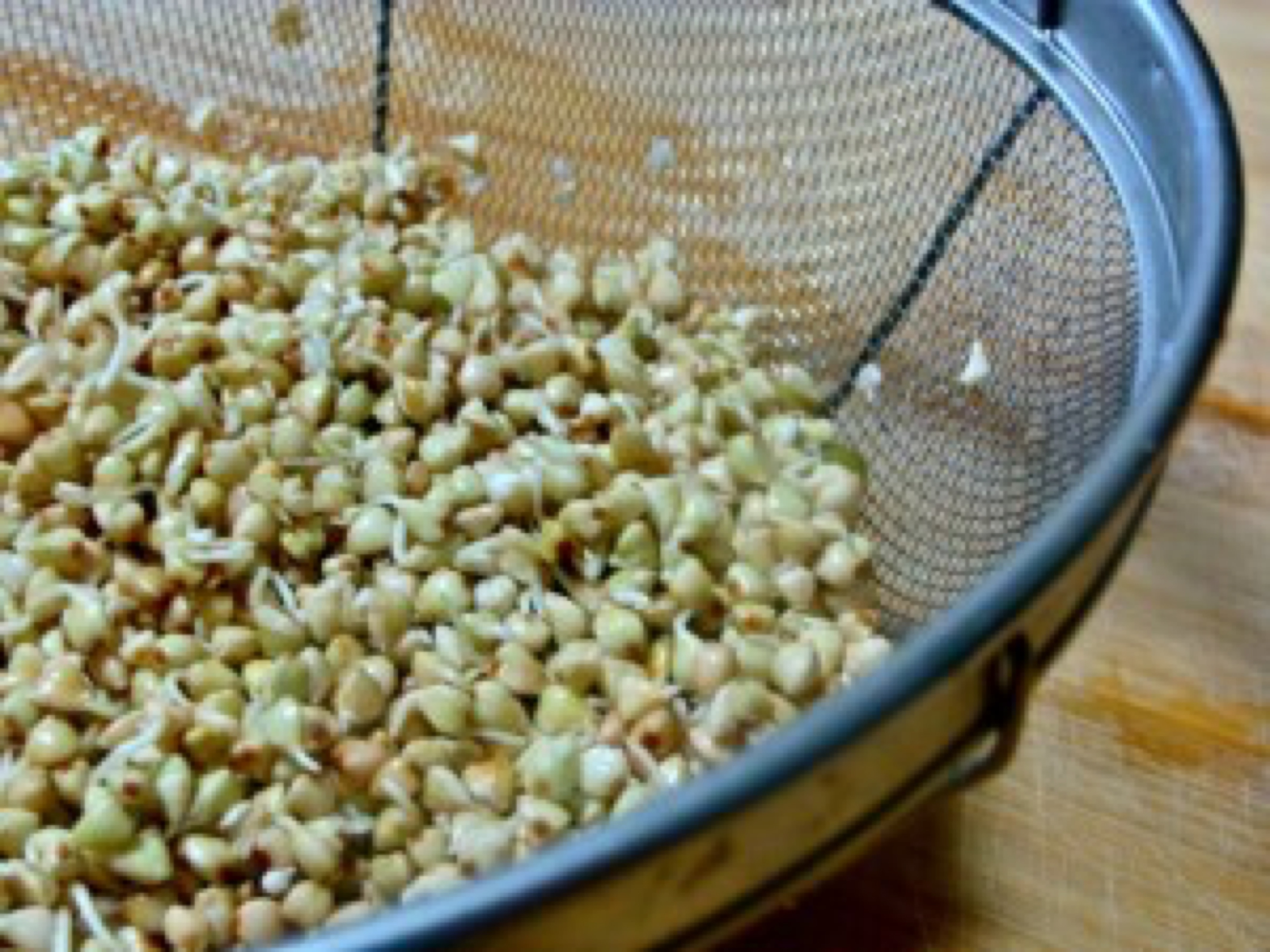 But there is more...
Buckwheat is a complete source of protein.
It has all 8 essential amino acids including lysine and arginine (in which major cereal crops are actually deficient) ensuring buckwheat an unsurpassed cholesterol-lowering food.
Buckwheat is also rich in lecithin, making it a wonderful cholesterol balancer because lecithin soaks up "bad" cholesterol and prevents it from being absorbed. Lecithin neutralizes toxins and purifies the lymphatic system, taking some of the load off of the liver.
It is perfect for diabetics, as well as those who want to cut out sugary carbohydrates and to balance their blood sugar levels.
It is known to lower high blood pressure,reducing the activity of angiotensin converting enzyme (ACE) and therefore reducing hypertension.
Buckwheat has more protein than rice, wheat, millet or corn.
Buckwheat contains no gluten—the source of protein in true grains—and is therefore so safe for people with gluten allergy or celiac disease.
Buckwheat has the ability to reduce and stabilize blood sugar levels following meals— rather vital in preventing diabetes and obesity.
Sprouted buckwheat also cleanses the colon and alkalizes the body.
It provides a super food for anyone with varicose veins or hardening of the arteries because it is rich in rutin, a powerful capillary wall strengthener. Such weak veins can actually cause varicose veins or hemorrhoids because blood and fluids accumulate and leak into nearby tissues.
Sprouted buckwheat is also a brain boosting super food as 28% of the brain is made up of lecithin and consuming foods rich in lecithin (such as buckwheat) may actually prevent anxiety, depression, brain fog, mental fatigue while helping make the brain sharper and clearer.
Buckwheat is high in iron, helping to build good blood.
Also high in boron and calcium, buckwheat can help prevent osteoporosis. Rich too in flavonoids and co-enzyme Q10, buckwheat contains all of the B vitamins, magnesium, manganese and selenium.
Such a powerhouse packed into the smallest of parcels
So now you know all the health benefits of buckwheat -
what is the best way
to sprout them?
Pour 1 ½ cups buckwheat groats into a bowl.
Cover with 3 to 4 cups room temperature water.
Stir the seeds so that none are floating on the top and soak for an hour.
Drain the water in a colander, letting the seeds stand.
Rinse 3 times per day with cool water for 2 days.
A starch substance will form on the buckwheat which should be washed off thoroughly.
Spouts will form after a day or two. You will notice little tails. They are ready to use at this stage but it takes 2 to 4 days for the tails to grow longer. You can use either fresh or dehydrate at 105 degrees for 6 to 8 hours before storing in an airtight container.
Sprouts are a wonderful and easy way to add raw foods to your diet. Eat fresh to be at their peak and remember, when your sprouts are ready to go, do NOT rinse them before storing in the fridge as they should be dry when stored. Add fresh sprouts to a variety of foods.
A bonus – when you add fresh sprouts to any meal you eat a lot less as you get that fuller feeling earlier.
  Sources: http://www.oprah.com/health/Buckwheat-Dr-Perricones-No-5-Superfood#ixzz2BhKznByU http://www.vegancoach.com/sprouted-buckwheat.html