Is There A New Baby In The House? | Amoils.com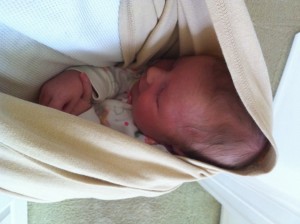 The safe arrival of my new baby granddaughter has brought home only too vividly the upheaval that a new baby in the house can cause! While having a baby can be one of the most exciting, exhilarating and frightening experiences parents (and moms in particular) can face, the arrival of a new baby affects the whole family.
All those changes
Whether or not the new baby is the first in the family, the anticipation surrounding this new arrival can affect everyone. The existing family's life is about to change both permanently and dramatically causing a lot of emotions for everyone. The dad is on edge, any older children are confused or excited and even the family cat or dog senses something is not quite right. For the new mom herself, after nine months of physical and emotional changes, she has a brand new life in her arms with so much running through her head. Having a whole host of of emotions is perfectly natural when you have a new baby, and it remains that way whether it is your first, second or fifth! Her hormone changes can result in an emotional roller coaster. Pregnancy brings major shifts in hormones anyway and these only reach a peak with labor and delivery. But once you are home and responsible for a tiny human being, it can be a daunting proposition.
How new moms and dads are affected
Sadly, many moms can be overwhelmed with worry, doubt and even feelings of depression during what should be one of the most joyful moments of their lives. And increasingly, society is becoming aware that new dads too can be affected by these same feelings of depression. So families, just try to take a deep breath. This is all perfectly normal, you are by no means the only ones feeling this way (there are loads of other new parents out there too) and you can weather the storm. If you have other young children in the family, expect them to play up at this time – it is a big adjustment for them and they may well test you. They will soon get used to having a new baby in the house, realize that he or she is not going away again, and with a bit of luck will get on with their lives in the same way as they did before.
Hormone changes
And new moms, all those hormones that were jostled around during the 9 months of preganancy, well these now have to settle back into place and this will take a bit of time. You will need to be patient and so don't be too hard on yourself. If anyone offers a helping hand, grab it quickly! Everyone suffers a little bit from the baby blues but if you feel that in your case, things are really not right nor getting any better, then this could be a sign of postpartum depression and you should chat to your doctor for his help, guidance and some treatment if necessary. If you are convinced that it is just exhaustion and not depression, then you know you should take that advice that has probably been given to you many times – sleep when your baby does. Also try not to worry too much about the chores and the home in those early days and make sure you have some time to yourself. Looking after yourself means you are better able to look after your new baby.
Include the rest of your family in the enriching experience of taking care of the new baby
I am fortunate in that I have been able to come and spend some time with my daughter and her young family in these early weeks since the birth of the new baby - and to help out where needed.
As I normally live on the other side of the world, this time is proving to be extra special.