A Natural Solution for Skin Tags
Skin tags are very common
Skin tags can appear and start to grow bigger on various parts of the body but especially in those areas where the skin is more relaxed - around the eyes, under the armpits, on the neck or even in the groin.
But if the tags cause you embarrassment or irritation, there are various ways to remove them. 
What are skin tags, what do they look like and what causes them? 
Some skin tags often look like a growth that hangs off the skin in the form of a peduncle or small thick piece of skin.  Skin tags are not dangerous but can cause discomfort if in an area with a lot of contact such as a shirt collar on a neck or the groin area when walking.
Along with growing older being a contributing factor, other causes of skin tags include pregnancy, obesity and diabetes.
Those bodybuilders who use steroids can actually cause skin tags due to the effects of the pills or drugs they are ingesting. Steroid use can cause the collagen fibers to bond in such a way that skin tags are formed.
Changes in hormones in a woman's body can also cause skin tags to grow.
Insulin rejection, which may be caused by diabetes or some other factor in the body, can affect the growth of skin tags. 
Skin tags can be confused with warts
Unlike skin tags, warts are contagious.  They do not dangle like skin tags, but have a cylindrical shape with pink or white hues. They can even appear in clumps on the skin and even resemble cauliflowers.  Although warts can be unsightly, they are not usually painful and are caused by a virus - namely HPV, or Human Papillomavirus.
How can skin tags be removed?
Once you see skin tags appear, you can treat them at home with a natural formula which will not cause any pain, burning or scarring - and is safe to use for sensitive skin.  And that formula is H-Skin Tags Formula which is a natural alternative for removing skin tags, made up of a pure blend of ingredients designed to work quickly and effectively without any pain or scarring.  The Formula is safe for skin tags all over the body, including under the arms, on the neck and face - and even in sensitive areas.
Many of those who discover skin tags may be tempted to try and remove them by tying fine thread around the base of the skin tag, cutting off the blood supply so that in time, the skin tag will die and drop off.  Others might consider snipping off skin tags with a pair of scissors.  Neither of these are recommended as they can lead to infection and even bleeding.   
H-Skin Tags Formula is all natural
For a 100% natural solution to painlessly remove skin tags, try H-Skin Tags Formula.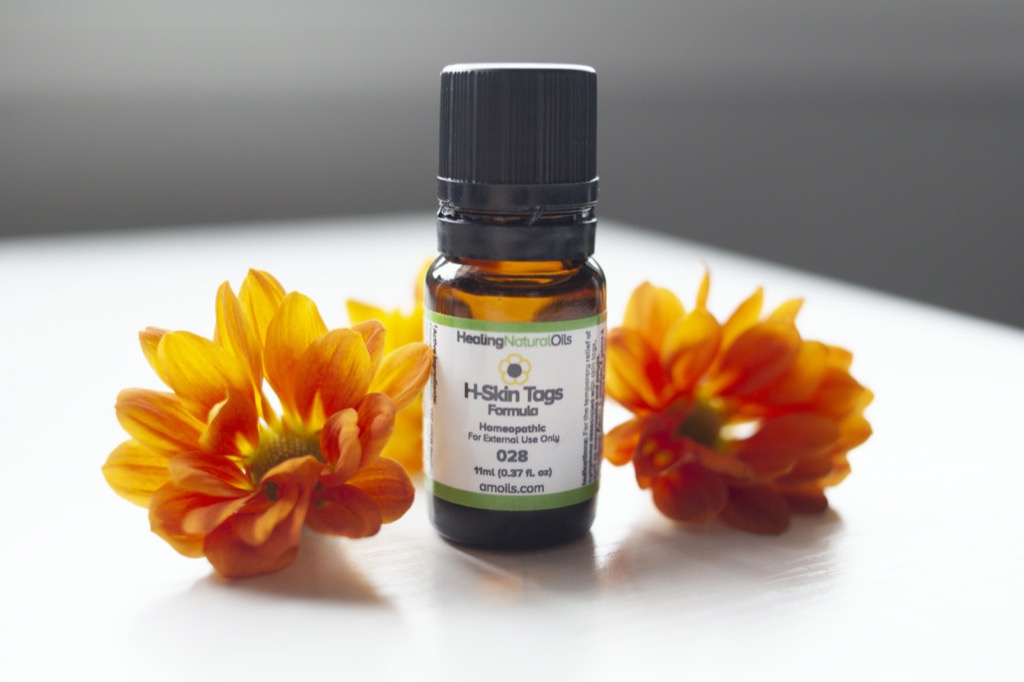 There are some medical ways to remove skin tags and these include:
Cryotherapy – where the skin tags are frozen with liquid nitrogen, helping to destroy the cell tissue.  There may be some minor pain and scarring and this method should not be applied to the same area more than once a week. 
 
Electrocautery – which is carried out in a health professional's office or clinic where a local anesthetic is used for pain control.  This procedure removes larger skin tags by burning them with a low-voltage electrified probe going on to stop any bleeding afterwards while accelerating healing. Medical scissors are used  to cut off the skin tag completely before the wound will either be cauterized or pressure will be applied to stop the bleeding. Healing usually takes 2 to 4 weeks and there is the possibility of scarring.
 
Surgical excision - this is achieved by cutting out the skin tag under either a local or general anesthesia in the doctor's rooms or the operating theatre. This can be painful when the anesthetic wears off plus there can be scarring.
 
Lasers – which are used to eliminate skin tags while simultaneously re-surfacing the skin thereby producing good cosmetic results.
 
Electro surgery or electrolysis - this is an effective way to get rid of skin tags. This procedure is usually performed by a professional who will use an electric needle to destroy the skin tag growth as well as any additional growth beneath the skin. Electrolysis is usually fast and permanent but with minor scarring. 
 All natural, cruelty-free solution for any skin tags