Talcum Powder Can Be Hazardous But There Are Natural Alternatives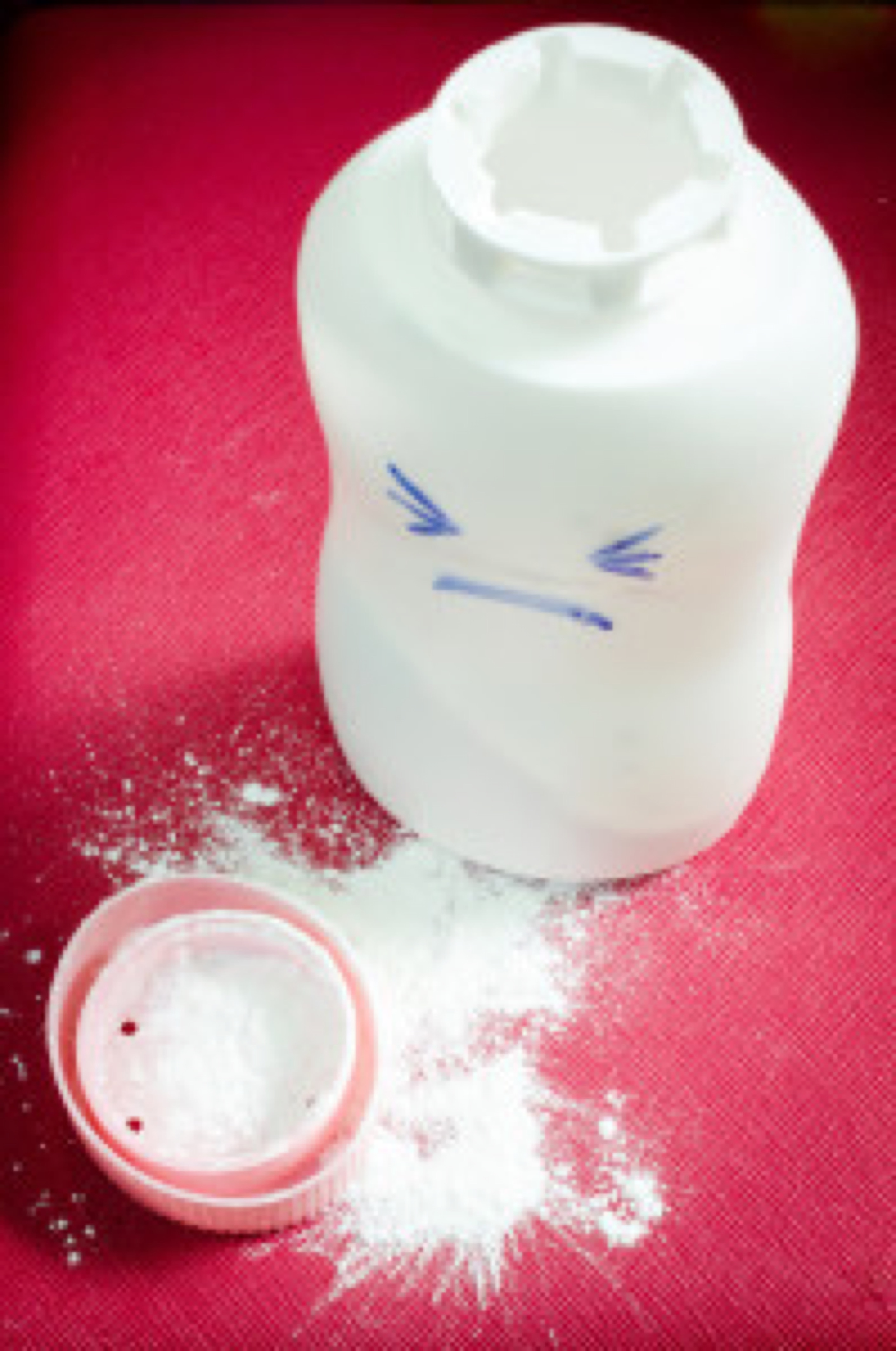 Talcum powder is a rather old fashioned substance that was very popular in the past to absorb moisture and reduce friction on the skin - the scented version for women and the baby version for young children. The talc in talcum powder comes from the crushing, drying and milling of mined talc rocks and contains minerals such as magnesium and silicon. I know it is hard to imagine now but, in the past, talcum powder used to include asbestos (we now know this causes
mesotheliomas
which are rare cancers of the tissues around the lungs). Although all talcum powder is now asbestos-free, it does comes with other dangers. And even though it has become less fashionable, it is still available on the shelves of stores worldwide.
What are the dangers in talcum powder?
It contains minute fibers that take years to dissolve.
It can easily travel in the air (being so light), making it easy to inhale when applying.
When applied to the female genital area, it makes it way through the vagina, into the uterus and along the fallopian tubes to the ovaries.
Baby talcum powder
The American Academy of Pediatrics
has recommended parents should not use baby powder because of the risk of respiratory problems. This is because baby talcum powder can cause breathing trouble and serious lung damage if they inhale the particles. As I have already mentioned, the particles are small and light making them hard to keep out of the air during use. Even other powders made of corn starch for example can also be inhaled. Just tiny amounts of powder can irritate a baby's lungs especially when they are at high risk for respiratory illness including prem babies, those with congenital heart diseas or babies who suffer from frequent respiratory illnesses.
Johnson & Johnson
have issued a warning on their product as follows:
For external use only. Keep out of reach of children. Close tightly after use. Do not use on broken skin. Avoid contact with eyes. Keep powder away from child's face to avoid inhalation, which can cause breathing problems.
Respiratory problems
It is well known that prolonged inhalation of dust is associated with respiratory effects. In the same way, long term excessive exposures to talc may cause
Talcosis
, a pulmonary fibrosis which may in turn lead to severe and permanent damage to the lung.
Crystalline silica
Talc can contain some crystalline silica (generally less than 5%). The main health effect of exposure to crystalline silica is S
ilicosis
, a progressive and impairing fibrosis. This illness develops as the consequence of long term exposure to excessive amounts of respirable crystalline silica particles. An earlier evaluation
(IARC - International Agency for Research on Cancer - 1997
) concluded that crystalline silica is a human carcinogen meaning chronic inhalation of it could be a lung cancer hazard. This conclusion was limited to certain occupational circumstances only.
The risk of ovarian cancer
As long ago as 1971, researchers found particles of talc in 75% of the ovarian tumors they studied. While in a later study, carried out by 19 scientists in 8 different countries, research showed a 30 to 60% increased risk of ovarian cancer if talc was used in the genital area.
The natural alternative
Most of us are already in the habit of avoiding talcum powder in our daily lives. If you really feel the need for a dusting of powder, there are many talcum-free natural and organic options to choose from to ensure your baby's safety and your own.  
Sources:
http://www.hvchemical.com/msds/talc.htm http://www.osha.gov/OshDoc/data_General_Facts/crystalline-factsheet.pdf). http://pediatrics.aappublications.org/content/43/6/1058.abstract http://www.ijponline.net/content/37/1/47 http://www.nlm.nih.gov/medlineplus/ency/article/002719.htm http://www.preventcancer.com/consumers/cosmetics/talc.htm http://www.prnewswire.com/news-releases/petition-seeking-a-cancer-warning-on-cosmetic-talc-powder-products-57264457.html
Updated at: