The Tip Tapping Typewriter Is Right Back On Trend!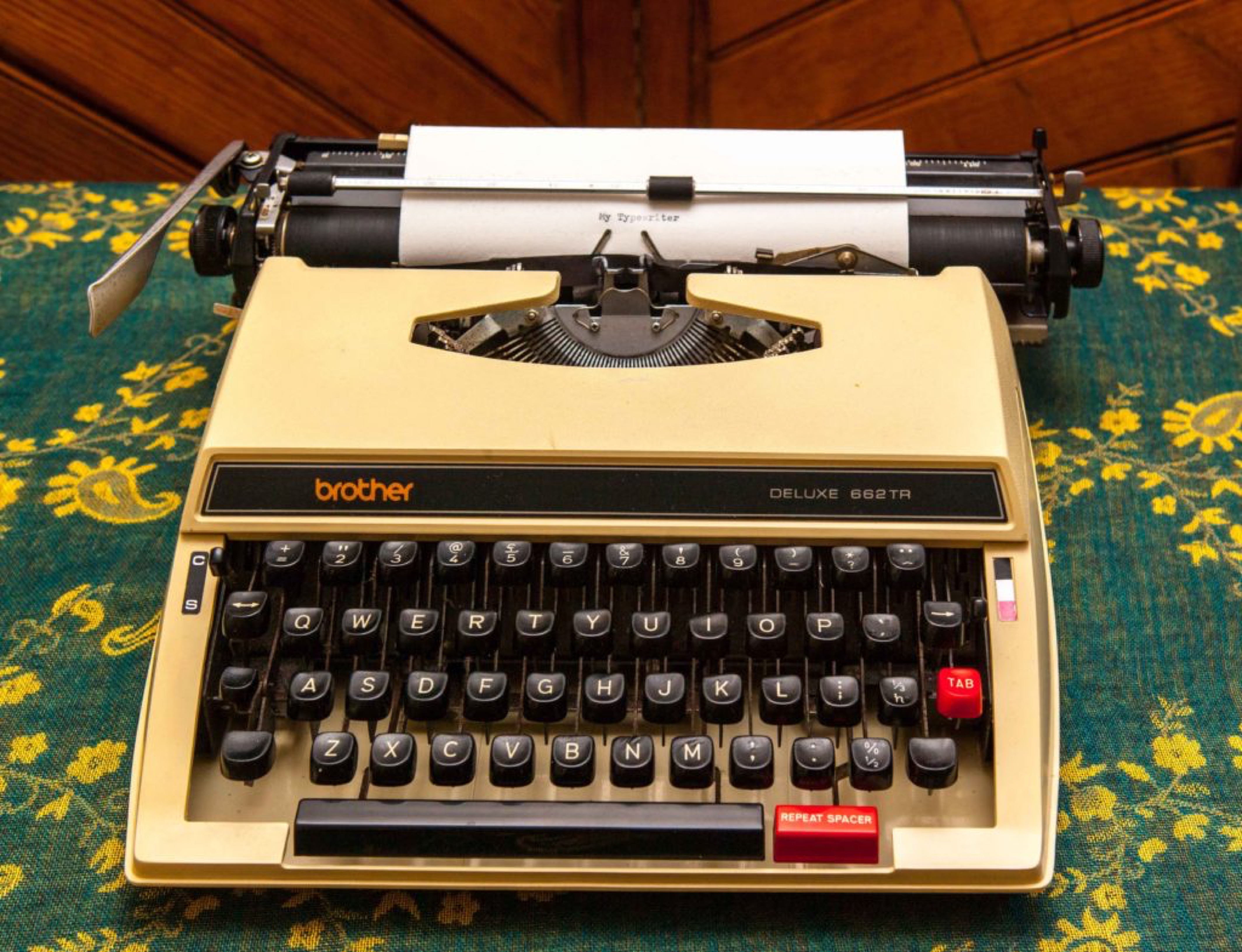 Uncommon Type
" which is a collection of short stories - each one featuring a typewriter. There is even a recent documentary on typewriters called "
California Typewriter
" which is a nearly two hour reflection on the tactile and emotional attachment typewriter owners have to their beloved machines, whether they are creating on them, lovingly repairing them or even playing music on them.
Why might you like to use a typewriter?
Anthony Casillo
(a typewriter expert and collector in New York) has shared several reasons why he thinks we should use a typewriter:
If your penmanship is illegible.
You can't afford a computer or are not able to figure one out.
Your religion forbids the use of machinery invented after 1867 (when John Pratt came up with the Pterotype)!
You want the assurance that your letter/note/receipt/speech/school report will be kept for a long time.
You take great pleasure in the tactile experience of typing - the sound, the physical quality of touch, the report and action of type-bell-return, the carriage, and the satisfaction of pulling a completed page of the machine!
If what you are writing is lengthy, the distraction of rolling another page into the carriage allows you to collect your thoughts.
My own typewriter
I am the proud owner of a Brother portable typewriter that belonged to my mother. For many years, it sat to one side of my desk with the keys all clogged up with old oil and dust and a worn out ribbon. But recently, I was able to find a brand new ribbon on Amazon and, following a tutorial online, I gave it a really good clean and a service. It is now in "imperfect" order, enjoying a prominent position in the home where it can be seen, admired - and even occasionally used. The grandchildren are intrigued when they first see it!
Learning to type
For decades, young school leavers would go to secretarial college to learn to type while some could even take typing as a subject in high school. With the arrival of computers, the skill of touch typing seemed to go out of fashion - and yet, with just about the whole of the western world now working on computers, being able to touch type seems more useful than ever. I went to secretarial college in the 1960s and along with typing, learnt another forgotten skill - shorthand. And I find it really helpful every day when I can write emails, blog posts and more using all my fingers without having to look at the keys. I learnt on an old manual typewriter (where you really had to bang those keys) so I certainly do not have a soft touch when using the computer keyboard - but I am fast!
Some typewriter history
The first commercial typewriters were introduced in 1874 but did not become common in offices until after the mid-1880s.
After that, the typewriter quickly became an indispensable tool for practically all writing other than personal handwritten correspondence. It was widely used by professional writers and in offices - as well as for business correspondence in private homes.
A final word
Tom Hanks has the final word when he says: "The truth is, no good typewriter is ever going to be made again."
It is a sad fact that however nostalgic and appreciative the world may be about the typewriter and however many vintage machines find a place as an object of interest and curiosity in the home, it is highly unlikely that the world's finest writing tool will ever be brought back. Long may we cherish the typewriters that are still around.
Updated at: