Looking After Facial Hair and All Types of Beards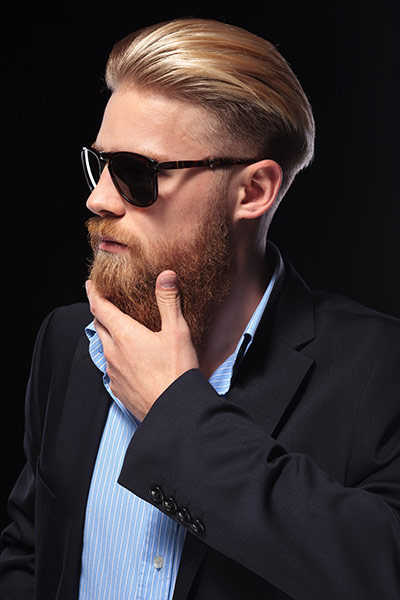 Growing facial hair in the form of a mustache, sideburns, a goatee or a full beard is often a fashion statement and not just a personal preference.  And these fashion trends come and go as regular as clockwork.
The current trend (particularly in younger men) is for mustaches to be grown in the month of November as part of a global cancer awareness campaign (known as Movember) - and to sport a beard for the rest of the year.  Of course, some cultures and religions advocate facial hair as part of their identity.
If you do decide to grow a beard or other type of facial hair, then it is wise to look after both the hair itself and the skin that carries on functioning beneath it.
Try this: All Natural Beard Oil
We have some tips to share to help you with this objective 
Invest in a beard trimmer and learn how to use it as it will help to give you even, uniform results. Choose a beard trimmer with a pop-up trimming attachment so you can keep the whiskers away from the edge of your top lip. The edges can be tidied up with a regular razor or a special beard razor.
Just as you would look after the hair on your head, wash and shampoo your beard regularly. A mild natural shampoo minus any toxic chemicals is so much easier and safer on your skin.
After shampooing, you may use a conditioner.  Again, making sure to use a natural condition and to rinse thoroughly.  Failure to rinse sufficiently may result in flaking and dry skin.
Be aware that beard hairs are much coarser than the hair on your head so you will find that conditioning your beard will have less effect. Nevertheless, a conditioner will still help your facial hair to feel softer.
Gently pat and wipe your beard dry with a towel. It is not necessary to blow dry a beard.  In fact, this can be rather harsh for your skin.
Comb your beard and mustache with a wide-toothed comb to remove tangles or if you prefer, use a hairbrush.
And the finishing touch?  Treat with H-Beard Oil from Healing Natural Oils. Twice a day, place several drops in the palm of your hand and massage gently into your beard before running your fingers through the hair to coat it evenly. This allows the oil to be absorbed quickly, delivering deep hydration and moisturizing your facial hair, while leaving the hair soft and nourished without feeling oily or greasy.  As we have already said, facial hair can cause skin dryness so it is essential to add a safe skin treatment to counteract this. 
Essential oils have been used for centuries as natural remedies for all types of conditions .   It is good to know that essential oils are gentle and safe to use on your your skin because they are non-toxic, non-irritant and non-sensitizing. Try our natural beard oil 
Have you ever thought of coloring your beard to cover the gray?
If this is something you would like to try, henna is an inexpensive natural alternative to chemical hair dye.  It is still applied in much the same way and is permanent although it will gradually fade.  Henna will cover up grays but never lightens your beard.  It  can make it darker and deeper in color if you wish, with many shades available so that you can blend to make a unique shade
The dye mixing instructions will of course come with the product but here are few steps to follow. 
Do start the process in the early evening – it will become obvious why later.
Scrub facial hair clean gently with an old soft toothbrush before shampooing. The skin and beard need to be free of any oil and dirt as these can stop the paste from really penetrating.
Mix the henna with warm tap water until you get a consistency of yogurt, wearing disposable plastic gloves to avoid staining your hands.  Apply the paste thickly immediately to your beard with a teaspoon or gloved fingers so that no hairs are visible.
Leave on for 35 minutes to an hour before rinsing with water until it runs clear.
One word of warning about coloring your beard is that, if you have a lot of white hair and you are using browns and blacks, your beard might turn green at first.  Do not be too alarmed as it will turn to the color of your choice after a few hours.
Do not wash with any soaps or shampoos for up to 24 hours afterwards. 
Whether you color or not, with some care and attention (and H-Beard Oil), you can have a beard or other facial hair to be proud of!
Read more about H-Beard Oil
Sources
Seemal R.(1987) Desai, MD, dermatologist, president of the Dallas/Ft. Worth Dermatological Society; clinical assistant professor, University of Texas Southwestern Medical Center. (Accessed, Feb 10, 2021)
Skin care and cosmetics. (2015)
my.clevelandclinic.org/health/healthy_living/hic_An_Overview_ofYour_Skin/hic_Understanding_the_Ingredients_in_Skin_Care_Products. (Accessed, Feb 10,2021)
Swearingen, K., & Winget, J. (n.d.). Identifying markers of healthy skin development
systemsbiology.org/research/identifying-markers-of-healthy-skin-development/.  (Accessed, Feb 10,2021)
 Other Guides on Health Conditions:
 Other Guides on Health Conditions: