Top Ten Tips to be Water Wise in your Garden or Back Yard
With climate change becoming an indisputable fact of life, many places today are suffering from alternate bouts of drought and of flood. And experts have warned about growing populations and increasing risks of water shortages in the coming years.
If you own a beautiful garden full of plants, lawn and of course wildlife, how can you prepare for less water being available?  And should you be saving water right now?  Saving water makes sense for everyone wherever you live, thinking about the future for both your family and your environment.
Our top ten tips 
Invest in rainwater barrels to collect the rain run-off from your roofs, preventing such a valuable resource from literally going down the drain. Completely free of chlorine and other chemicals, your plants will actually prefer rain water to tap water.
According to the University of Illinois Extension, the optimal watering time for your garden is early morning before the temperatures begin to rise, winds are lower and there is less evaporation. Morning watering gives the plants a good supply of water to face the heat of the day.
As not all plants need the same amount of water every day, you can afford to be selective. Your fruit and vegetable crops are worth the effort , but your lawns are surprisingly resilient so don't worry if they turn brown. In fact if you let them grow a little longer, lawns can usually cope well without extra irrigation. Letting some grassy patches grow longer to become wildlife areas will help to save water and assist wildlife too.
Remember too that grassy lawns are voracious water drinkers. It may be time to reduce the amount of lawn or change to other ground covers that will sprawl across the ground without growing too tall, eliminating the need to mow, providing the perfect alternative to grass. While the climate and layout of your landscape will ultimately determine which groundcovers will perform best in your yard, here are some suggestions if you have a bright, sunny area to fill: Japanese sweet flag, barberry cotoneaster, asian star jasmine, creeping jenny and creeping herbs, such as thyme and oregano.
A really good soaking every few days (or when the soil becomes dry) will help plants to develop a deep healthy root system. Avoid watering lightly every day as this encourages the plant roots to grow near the surface of the soil making them much more vulnerable to drought.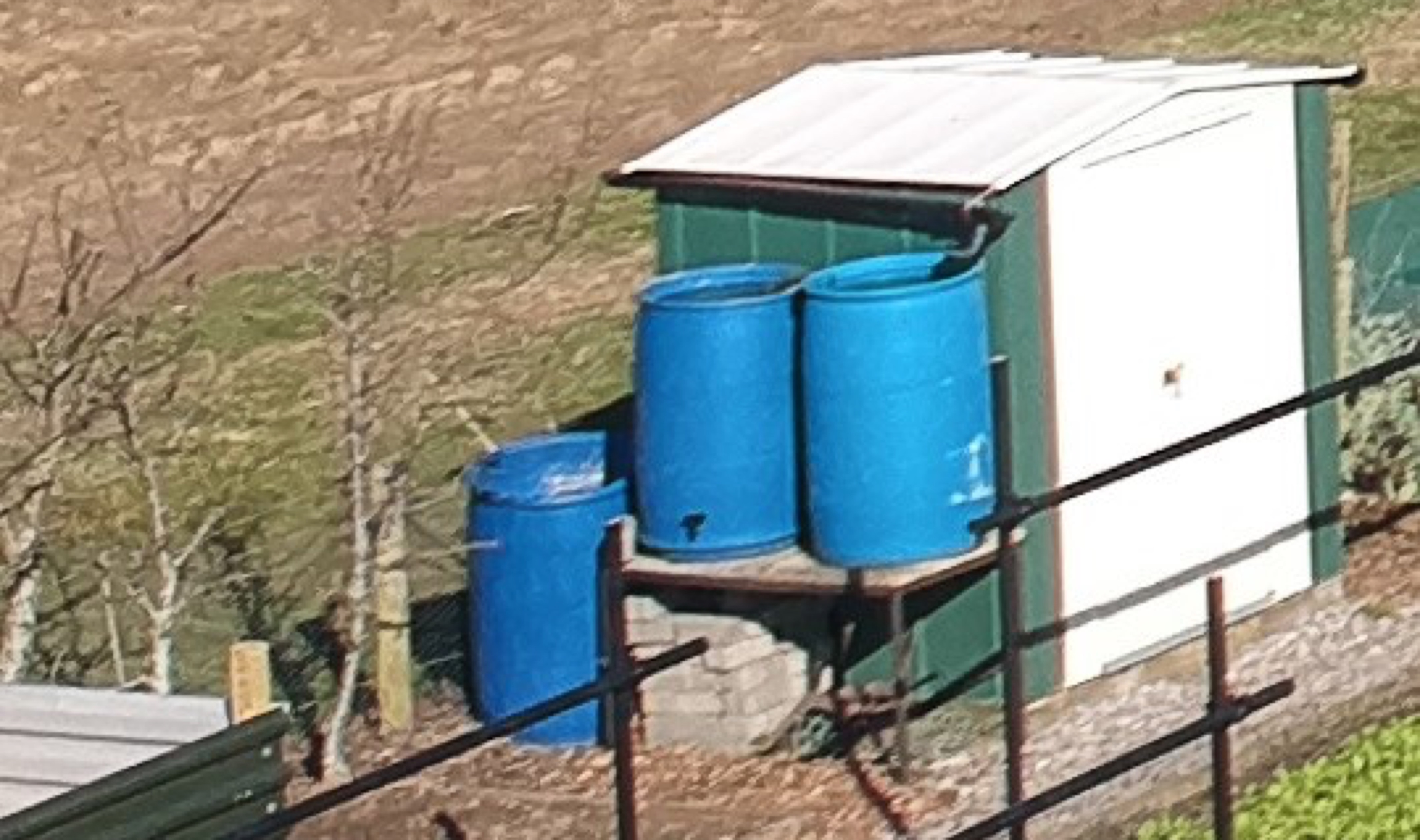 our allotment, we have no running water and have to rely on rainfall, rainwater saved in water barrels and water supplied direct to dipping tanks - yes, the watering cans get dipped into the tanks and carried to where they are needed. Such restrictions obviously ensure you are careful with the amount of water you use!
World Water Day
World Water Day is an annual UN observance day (always on March 22) to highlight the importance of freshwater and is celebrated around the world with a variety of events.

If you can follow some of these tips for saving water in your garden, you will be doing your bit to help save water in general. 
Sources
Ani, V., et al. (2011). Antioxidant potential of bitter cumin (Centratherum anthelminticum(L.) Kuntze) seeds in in vitro 

https://www.ncbi.nlm.nih.gov/pmc/articles/PMC3112436/. (Accessed, 7 November 2021).

Balakrishnan, A. (2015). Therapeutic uses of peppermint—a review.
https://www.jpsr.pharmainfo.in/Documents/Volumes/vol7Issue07/jpsr07071524.pdf. (Accessed, 7 November 2021).

Basith, S., et al. (2016). Harnessing the therapeutic potential of capsaicin and its analogues in pain and other diseases.
https://www.ncbi.nlm.nih.gov/pmc/articles/PMC6272969/. (Accessed, 7 November 2021).

Best spices for arthritis. (n.d.).
https://www.arthritis.org/health-wellness/healthy-living/nutrition/healthy-eating/best-spices-for-arthritis. (Accessed, 7 November 2021).

Bodagh, M.N., et al. (2019). Ginger in gastrointestinal disorders: A systematic review of clinical trials.
https://www.ncbi.nlm.nih.gov/pmc/articles/PMC6341159/. (Accessed, 7 November 2021).

Bode, A., et al. (2011). Chapter 7: The amazing and mighty ginger. Herbal medicine: Biomolecular and clinical aspects, 2nd edition.
https://www.ncbi.nlm.nih.gov/books/NBK92775/. (Accessed, 7 November 2021).

Fadus, M.C., et al. (2017). Curcumin: An age-old anti-inflammatory and anti-neoplastic agent.
https://www.sciencedirect.com/science/article/pii/S2225411016302528. (Accessed, 7 November 2021).

Updated at: