Guilt Free Dishes | Amoils.com
With the festive season approaching, it makes it harder to avoid the less healthy dishes when feeding friends and family. To this end, we have found some guilt-free dishes for you to make and bake, leaving your conscience clear for the weeks ahead and beyond!
First up is a great vegetable pizza that is healthy too
(courtesy of the Food Babe) And the good news is that it is quick and easy with a total preparation and cooking time of 15 minutes or perhaps a little longer... You will need:
1 Ezekiel sprouted wheat tortilla
4 tablespoons of tomato/pizza sauce
1 garlic clove minced
¼ cup onions chopped
¼ cup green peppers chopped
¼ cup broccoli chopped
5 black olives sliced
1 ounce of organic mozzarella cheese (optional)
½ ounce of raw Parmesan cheese (optional)
crushed red pepper for sprinkling
Instructions 1. Preheat oven to 450 degrees 2. Place thawed tortilla on large pan and place in oven – 3-4 mins to allow crust to harden a bit 3. Once tortilla has started to slightly crisp on edges, remove from oven 4. Place sauce and garlic on crust first 5. Then top with suggested toppings or other toppings, being careful not to overload the crust 6. Next place cheese on top (optional) 7. Cook for 10 minutes or until cheese is bubbly Then serve and enjoy with a big green organic or local produce salad.
A very simple and easy light meal
It is fresh avocado and hard boiled free range eggs drizzled in organic olive oil. Fresh, simple, delicious and totally guilt-free
For a perfect pumpkin pie, you will need
Ingredients
1 cup pumpkin puree (an easy to use alternative is Libby's Canned Pumpkin)
1 cup milk
1 cup Chai Concentrate (or plain water for less "spice")
1/3 cup Chobani Plain Greek Yogurt
2 free range/organic eggs
1/4 cup brown sugar
1/4 tsp clove
1/4 tsp ginger
1/4 tsp nutmeg
1/4 tsp allspice
1/4 tsp lemon juice
Directions In a mixing bowl, combine the pureed pumpkin, milk, chai, yogurt, eggs, spices and lemon juice and blend. (Please note that the yogurt and chai will look weird together at first but just keep blending). One suggestion is to bake the pie crust for a few minutes (less than 10) to give it a golden glow before adding in the pie filling. Once your crust is ready, fill with the pumpkin mixture and bake for about an hour at 350 degrees. Bake until the pumpkin is stiff to the touch and crust is flaky and golden. 5 minutes before the end of the hour, "paint" the top edge of the crust with an egg white to add a nice golden glaze and then bake that additional 5 minutes. Another option is to sprinkle cinnamon on the crust edge after baking.
If grain free and dairy free is what you need for your pumpkin pie, you will find the recipe for one right here
Butternut Squash Pasta
is a vegetarian dish to feed up to 6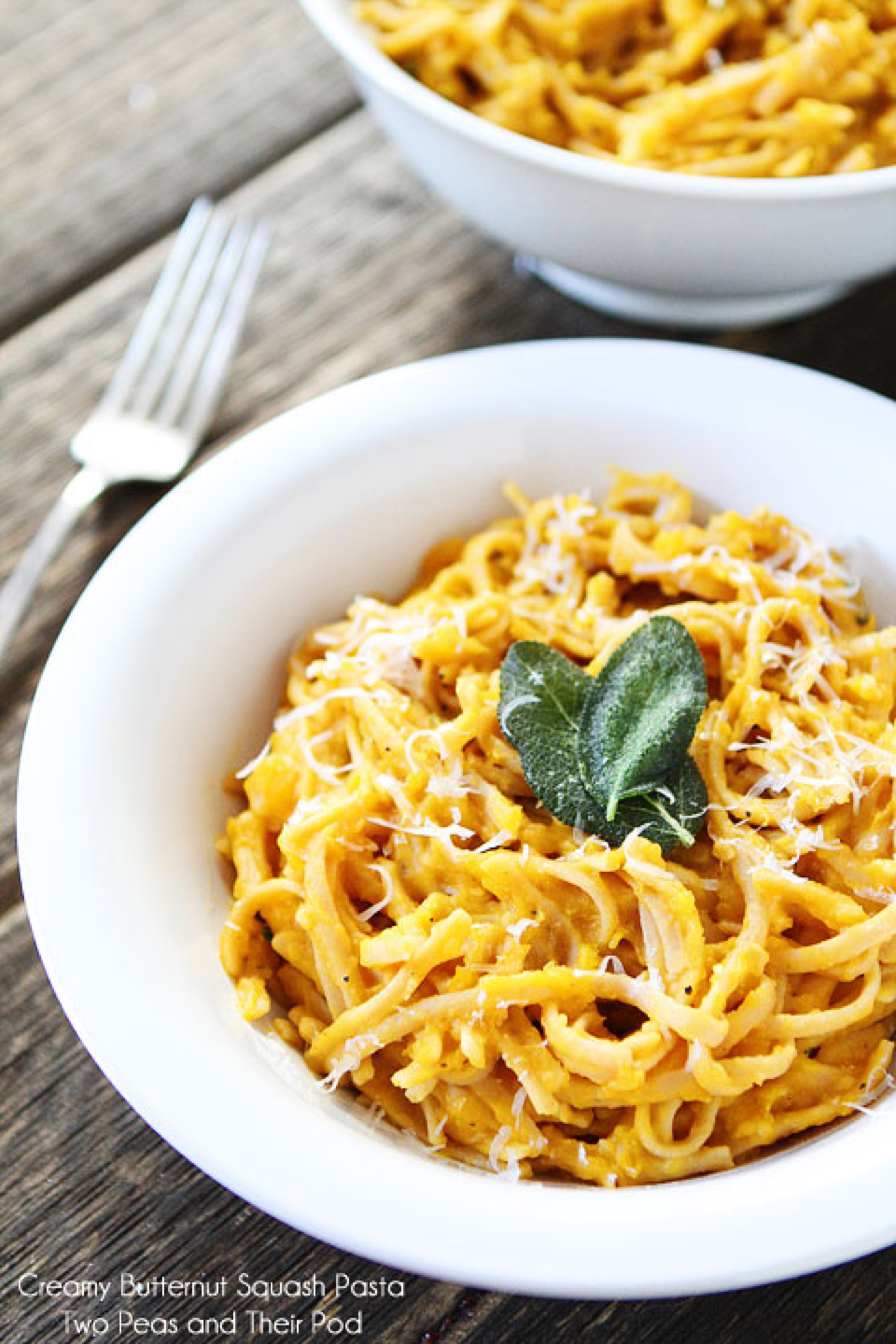 Ingredients
1 medium butternut squash, peeled and diced
3 tablespoons olive oil
8 sage leaves
12 ounces DeLallo whole wheat linguine (or other pasta)
1 1/2 cups water or vegetable broth
1 tablespoon olive oil
1/4 cup diced yellow onion
2 cloves garlic, minced
1/8 teaspoon ground nutmeg
1/4 cup freshly grated parmesan cheese
Salt and freshly ground black pepper, to taste
Directions: 1. Bring a large pot of water to a boil. Salt the water and add the butternut squash. Cook until soft, about 12-15 minutes. 2. While the squash is cooking, fry the sage leaves. Heat 3 tablespoons olive oil in a small skillet over medium-high heat until surface is shimmering slightly. Add a few leaves at a time and cook until crisp, but still bright green, about 30 seconds. Transfer to a paper towel to drain. Season with salt. Set aside. 3. Using a large slotted spoon, carefully remove the squash from the water and place in a large bowl. Add the pasta to the boiling water and cook according to package instructions. 4. Place the cooked butternut squash in a large food processor or blender. Puree the squash until smooth. Add water or broth and puree until the sauce reaches your desired consistency. You may need a little more or a little less water depending on the size of your squash. In a large deep skillet, heat 1 tablespoon of olive oil over medium-high heat. Add onion and garlic and sauté until soft, 3-5 minutes. Add pureed butternut squash. Stir in the Parmesan cheese. Season with nutmeg, salt, and pepper. Add the pasta and stir until pasta is well coated. Chop two of the sage leaves and stir them into the pasta. Serve the pasta with remaining fried sage leaves and additional Parmesan cheese, if desired.
Living guilt-free every day!
Of course you can serve guilt-free dishes every day if you stick to cooking from scratch with healthy whole food ingredients, butter and other dairy products from grass fed cows, free range eggs, poultry and meat, plenty of organic (or at least locally grown) fresh fruit and vegetables and healthy fats like coconut and olive oils. They all taste so good too.