Healthy Muffin Recipes
There is a great "real food manifesto poster" by calexxstuart.com that I am showing below. It covers everything that is good about eating in a healthy way. Perhaps we all need such a poster in our kitchen to give us a bit of a nudge in the right direction on a regular basis!
Here it is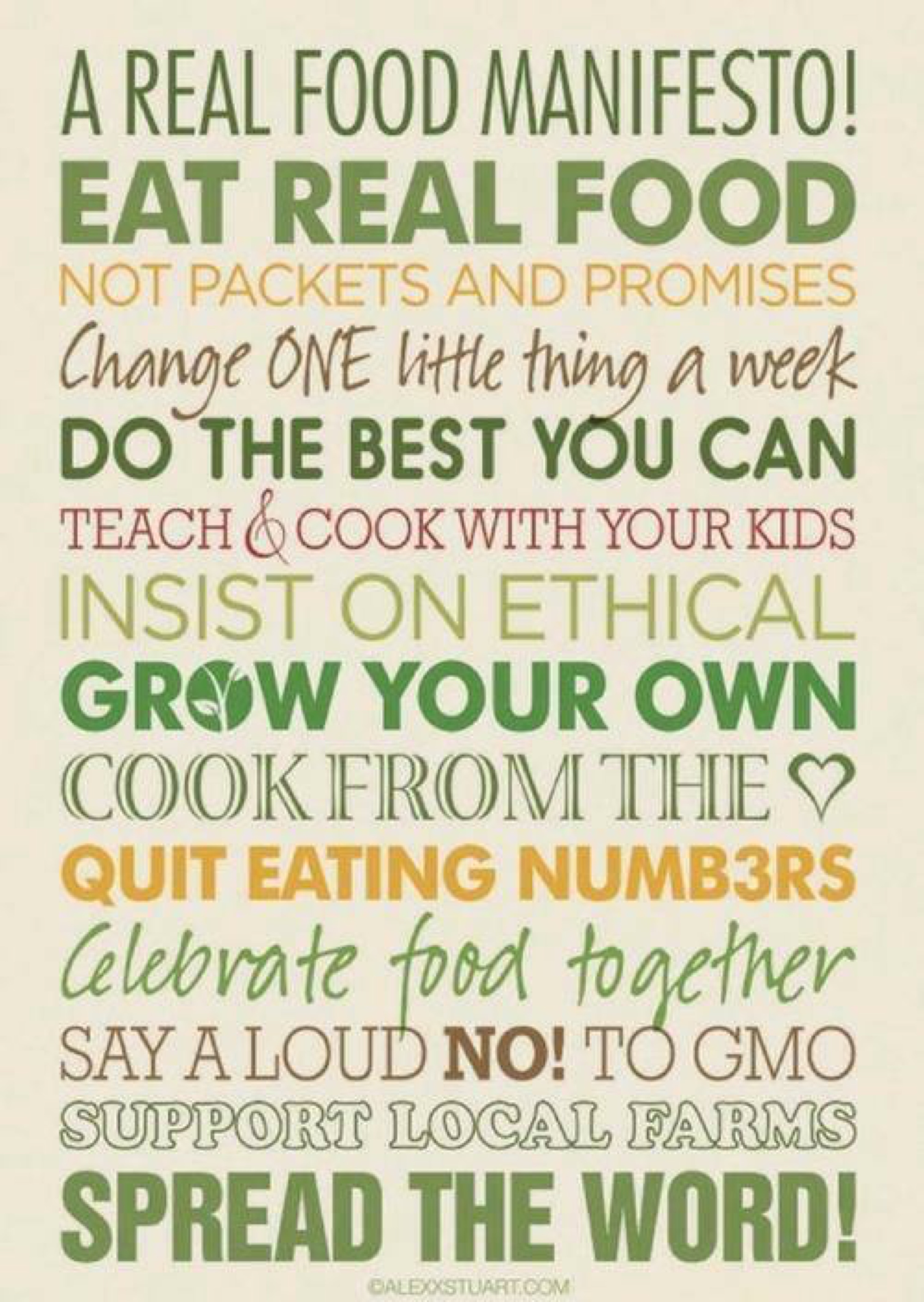 Healthy muffin recipes meet much of the criteria and I have chosen 5 different recipes to help you get on the right track. One that is full of goodness, one that is fruity, one that is chocolatey, one that is banana based and finally one that is decadent but still healthy!
The Goodness Healthy Muffin
½ cup whole wheat flour
2 cups oat bran
1 cup wheat germ
1 cup ground flax seed
2 tsp baking soda
4tsp baking powder
1 cup unsweetened homemade or organic apple sauce
3 free range/organic eggs
Preheat oven to 350°F and line muffin tin with muffin cups. Mix all ingredients together without over mixing as this may prevent the muffins from rising. Bake for 25-30 minutes. Thank you to
Rebecca
!
The Fruity Healthy Muffin
1 cup leftover mashed sweet potatoes (or yams)
2 large free range/organic eggs
1/2 cup unrefined sugar
1/4 cup olive oil or coconut oil
1/4 cup water
1 tsp finely grated orange zest
1 tablespoon vanilla extract
1/2 cup wheat flour
1 1/2 cups all-purpose flour
1 1/2 tsps natural salt
2 tsps baking powder
1/4 tsp baking soda
1 cup leftover homemade or organic cranberry sauce
1. Heat the oven to 350°F and grease a 12 cup muffin pan. 2. In a large bowl, mix together potatoes, eggs, sugar, oil, water, zest and vanilla with a wooden spoon. 3. In another bowl, whisk together flours, salt, baking powder and baking soda before adding to the sweet potato mixture and stirring until just combined. 4. Gently stir in cranberry sauce. 5. Spoon batter into the muffin cups and bake until muffins are browned and springy - about 30 minutes 6. Cool in pan on a rack 5 minutes, then turn muffins out onto rack to cool completely. Thank you to Catherine !
The Chocolatey Healthy Muffin
1/2 cup coconut flour
1/2 cup raw cacao powder
1 tsp gluten free baking powder
1/2 cup coconut oil, melted
5 free range/organic eggs
1/2 cup raw honey
1/2 cup coffee (1 espresso shot or 1 teaspoon of instant coffee in 1/2 cup of hot water) to add depth to the chocolate flavor.
Preheat oven to 350°F (fan forced) and line a 12-capacity cupcake tin with cases. In a bowl add in your dry ingredients and then your wet. With a mixer blend together on a low speed for 30 seconds and then mix for 2 minutes on medium-high speed. Make sure the sides have been scraped down so the mixture is even. Divide the cupcake batter into the into the 12 cases and bake in the oven for 20 minutes.
ICING for an extra special treat!
Use a can of coconut cream and leave overnight in the refrigerator. Separate the hard cream from the luqid and whip until light and fluffy. Add in some high quality vanilla extract and a pinch of cinnamon and topped with cacao nibs. Or you can use full fat plain yogurt and berries or a chocolate ganache made with dark chocolate and cream. Thank you to
Emilene from Australia
!
The Mini Banana Healthy Muffin
3 or 4 ripe bananas
1 tsp of vanilla
1/4 cup (half a stick) of butter, softened
1/4 cup brown sugar
1 cup apple sauce (organic with cinnamon is a great choice)
1 and 1/4 cups of flour
2 tsp baking powder
1 tsp baking soda
A dash of cinnamon
A dash of salt
Chopped raw pecans (this item and the following ones are all optional)
Chopped raw walnuts
Nutmeg
Chopped organic apples
Cream butter and brown sugar in a large mixing bowl until well blended. Stir in vanilla, ripe bananas, and applesauce. Continue stirring. Your batter should be well blended, but not perfectly smooth. Using a whisk, sift your dry ingredients in a separate mixing bowl before combing with wet ingredients and stirring well. Any of the optional ingredients can then be added. Pour batter into greased or floured mini muffin cups or trays. Bake at 325 degrees for 10-12 minutes, checking every 5 minutes. Muffins are done when a fork or toothpick comes out clean. Remove
muffins
from tray, and allow to cool on a wire rack for 10 minutes.
Decadent Healthy Vegan Muffins (or this recipe can be used for a loaf!)
1.5 cups dates, chopped and pitted
1 cup water
¾ tsp baking soda
¾ cup whole wheat flour
½ cup oat flour
¼ cup unsweetened cocoa powder
1 tsp baking soda
½ tsp baking powder
½ tsp salt
½ tsp vanilla
½ cup almond milk
2 large, very ripe bananas, mashed
2 tablespoons olive oil or coconut oil
1.5 tablespoons organic peanut butter (or other nut butter)
1/4 cup chocolate chips (raw organic if possible)
Preheat oven to 350°F and spray a mini muffin tin or standard loaf pan with nonstick spray. Place the dates and water in a small saucepan, uncovered, over high heat. As soon as the mixture comes to a boil, add the baking soda. Mixture will foam up but reduce the heat if mixture starts to foam over. When dates begin to break down, use a wooden spoon to help mash up the dates a little. Let simmer for another 5 minutes until the dates break down into a paste-like mixture. Add an additional splash of water if the mixture starts to look dry before the dates have completely broken down. Once dates are a stir-able mass, set aside to cool. In a large bowl, combine the flours, cocoa, baking soda, baking powder and salt. Add the date paste, vanilla, milk, bananas, oil and peanut butter and stir until well combined. Do not over mix. Fold in chocolate chips. Place a heaped tablespoon of batter into each mini muffin well or pour batter in prepared loaf pan. Bake for 12 to 13 minutes for mini muffins or about 40 to 45 minutes for a loaf. These
muffins
are done when the tops feel firm to the touch.
How can you resist one or more of these delicious sounding but healthy recipes?